The Different Types of Car Seat in the US Today
---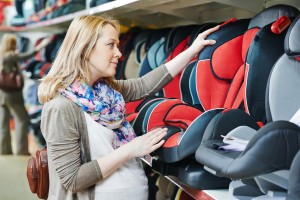 There are many difference types of car seat available in the US today, but only 2 of them are suitable for use by newborn babies.
They are infant car seats and convertible car seats. Since I often write product reviews of US car seats, I sometimes take it for granted that everyone knows what the different types of car seat are and which children they are suitable for.
However, it has occurred to me that this is somewhat presumptuous on my part and that many first time parents won't have any previous knowledge of the subject and could easily be confused by the jargon and complexities that surround the child car seat world.
The purpose of this post is to rectify this situation and explain in a little more detail the main differences between convertible car seats and other types of car seat.
So, what is a convertible car seat?
Convertible Car Seats Explained
---
Convertible car seats come in a variety of different shapes, sizes and fabric colors. They also vary greatly in terms of their safety and convenience features.
However, there are some general observations that can be made about convertible car seats.
Before I make these observations, I ought to make it clear that there are a few convertible car seats that fall outside the normal weight / height limit categories, but the purpose of this post is simply to give a general impression of their features rather than a precise examination of individual models.
If you need more information about specific models of convertible car seat, there are links at the bottom of this page that will take you to my in-depth reviews of individual car seats.
If you can't immediately find what you are looking for, please feel free to send me an email or leave a comment in the box at the bottom of the page.
#1

Child Age / Size
Convertible car seats are generally designed to be used from birth to anywhere from 40 – 70 lbs, provided they don't exceed the height limit first (often about 49 inches on premium seats). Your child will almost certainly outgrow the height limit before the weight limit.
The precise limits will depending on the particular make and model of convertible car seat and you should definitely consider this issue carefully before making any purchasing decision.
This is in contrast to infant car seats, which often only last until your child's weight exceeds about 30-35 lbs or their height exceeds 30-32 inches. Although every child is different, a convertible car seat will usually last until they are about 5 – 7 years of age, whereas an infant seat will often only last until your child is about 12 months of age (if not sooner).
#2

Portability
Unlike Infant car seats that are often clicked in and out of a base that remains installed in you vehicle, convertible car seats are designed to remain in your vehicle for most of the time. They can be removed and re-installed into the same or different vehicle, but they do not come with a carry handle and are not designed to be used to carry your child around in.
Infant seats can be used as part of a complete car seat/stroller travel system – convertible car seats cannot.
Having said that, there are times that you may need to remove a convertible car seat from your vehicle, for example if you want to take it away on holiday with you or simply want to use it in a different vehicle for a period of time.
Some seats are easier to remove and install than others and some are also easier to carry than others. The Diono Ranier and Diono Radian RXT models fold pretty flat and have backpack style straps for easy carriage.
#3

Installation
Convertible car seats are installed directly into the vehicle using either LATCH or the adult seat belt. They do not click into bases like infant car seats. In February 2014, there were some important law changes regarding the use of LATCH connectors to install car seats. In short, these laws reduced the length of time that you can keep a convertible car seat installed using LATCH connectors – based upon the combined weight of your child and the car seat.
In all of my individual car seat reviews, I state what the current weight limits are for LATCH installation – you should also check the instruction manual when your seat arrives.
Read about these LATCH law changes here.
#4

Forwards Facing / Rear Facing
Convertible car seats can be used forwards facing or rear facing or varying periods of time, depending upon the weight of your child and the particular seat that is being used.
Infant car seats are always used rear facing.
It is now universally accepted that rear facing car seats are much safer than forwards facing car seats. You should aim to have your child rear facing in their convertible seat for at least 2 years and preferably longer. Many people keep their children rear facing until they are about 4 – 5 years of age and this is to be welcomed.
Read more about the safety benefits of rear facing car seats here.
#5

Restraint System
One of the great things about convertible car seats is that they come fitted with 5-point harnesses. By choosing a premium convertible car seat with a high weight / height limit, you can prolong the length of time that your child can remain in a harness.
Harnessed seats are safer that belt-positioning booster seats and so it is in your child's best interests to delay their transition to this type of seat for as long as possible.
#6

Other Safety Features
Some of the other safety features that you ought to look out for when choosing a convertible car seat for your child are:
Steel Frames with Reinforced sides
Side Impact Protection Technology
Energy-Absorbing Foam
Adjustable Head Rests
Newborn Inserts
NCAP Crash Testing
#7

Cost
Premium convertible car seats are not cheap and often cost between $200 and £350.
However, if you choose a high quality premium convertible car seat from birth, you will avoid the need to buy an infant seat in the first place and thereby reduce your total expenditure.
Convertible-Booster Car Seats
---
Some convertible car seats can be converted into booster seats when your child reaches a certain size – they can last from birth to 120 lbs!
My favorites are the Diono Rainier and the Diono Radian RXT.
Harness to Booster Car Seats
---
If you choose to buy an infant car seat first, you do not necessarily need to buy a convertible car seat and then another booster car seat.
You can choose one of the convertible-booster seats that I mentioned above, or one these:

Read My In-Depth Convertible Car Seat Reviews
---
You can click on the links below to read my in-depth convertible car seat reviews:

New Britax ClickTight Convertible Car Seats
---
Britax released a brand new range of convertible car seats in Autumn 2014, featuring their revolutionary "ClickTight" belt-installation system.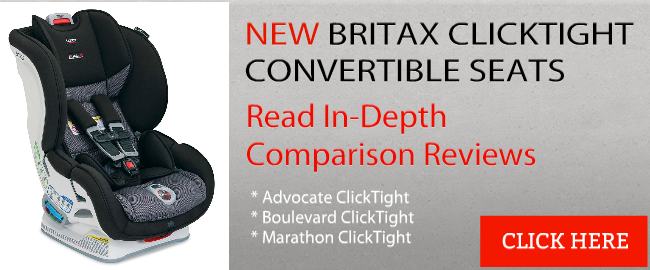 Safety Information
---
After purchasing any child car seat, you should always read the User Manual thoroughly before using it. It is also advisable to visit your local Fire Department or NHTSA Child Car Seat Inspection Centre to ensure that the seat is definitely suitable for your child's specific requirements and that you have installed it correctly. These services are usually provided free of charge.
You can find your nearest NHTSA Centre here.
Leave a Comment
---
If you have any questions about my "What is a Convertible Car Seat" post, please feel free to leave a comment below or just send an email to kristian@kidsafetyfirst.com