[et_pb_section fullwidth="on" background_color="#92dcdd" inner_shadow="off" parallax="off"][et_pb_fullwidth_header admin_label="Fullwidth Header" title="Baby Monitors" background_layout="light" text_orientation="left" /][/et_pb_section][et_pb_section][et_pb_row][et_pb_column type="4_4″][et_pb_text admin_label="Text" background_layout="light" text_orientation="left"]
Where Should Your Baby Sleep?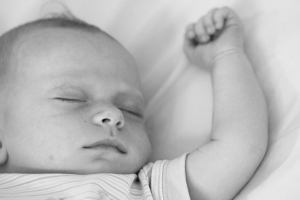 The current advice from the World Health Organisation is that babies should sleep in their parent's bedroom for the first 6 months. It is thought that this practice helps to prevent Sudden Infant Death Syndrome (Cot Deaths).
Of course, whilst your baby is sleeping in the same room as you there is probably little need for a baby monitor. I say little need, rather than no need, since there may be times during the first 6 months when baby is sleeping during the day and mum or dad need to leave the room to do some chores or make a meal.
However much you try to persuade a parent that their precious baby will be perfectly safe unattended for 10-15 minutes, it is perfectly natural for a parent in this situation to worry and look for some way to monitor their baby's well-being during their brief absence.
Once your baby reaches 6 months of age, it is generally considered best practice to let them sleep in their own bedroom. This can be a difficult transition for parents (especially if its your first baby) and during this settling-in period you will find a baby monitor to be an invaluable tool. Not only will it give you peace of mind that you will be able to immediately hear if your baby is in distress, but it will also enable you to regain some of that independence that you had to give up during the last 6 months. Once again, you will be able to enjoy a meal with your partner or watch a movie together without interruption – and remember that getting a little time to yourselves is not only good for your own state of mind but that is something that will benefit your baby too.
Which Type of Baby Monitor Should You Buy?
The first decision that you will have to make is whether to buy a Video Baby Monitor or an Audio Monitor.
There is a significant difference in price:
Video Monitor – £70 – £150 ($100 – $240)
Audio Monitor – £20 – £70 ($30 – $100)
When our twin boys were babies, we made do with an Audio Monitor since we couldn't see that there was much point in being able to see baby (or babies in our case!) when you could hear that they were crying.
However, many parents like the added reassurance of being able to see baby too. One potential benefit is that, if you hear a noise coming from the monitor you can simply turn over and look at the monitor screen to satisfy yourself that all is fine, rather than having to get out of bed and go to baby's bedroom to have a look. I can't help but feel that my wife and I might have had fewer arguments at 3am about whose turn it was to check the babies if we had invested in a Video Monitor.
Having discussed this issue with other parents and researched the available products on the market, I would probably choose a Video Monitor next time.
Which is the Best Video Baby Monitor?
The Rolls Royce of video monitors is probably the Infant Optics DXR-8 – read review
A cheaper alternative is the Infant Optics DXR-5 – read review
Which is the Best Audio Baby Monitor?
The Phillips Avent Dect range is very popular – read review
The V Tech Communications is a good budget option – read review
[/et_pb_text][/et_pb_column][/et_pb_row][/et_pb_section][et_pb_section fullwidth="off"][et_pb_row][et_pb_column type="4_4″][et_pb_contact_form admin_label="Contact Form" captcha="on" email="kristian@kidsafetyfirst.com" title="Comments" /][/et_pb_column][/et_pb_row][/et_pb_section]