Why Have I Ignored the Chicco Nextfit Until Now?
---
There are many worthy contenders for the title of Best Convertible Car Seat. I have made no secret of the fact that I am a big fan of Britax car seats and, in a previous post, have suggested that the Advocate G4 would be my personal choice if it wasn't for the fact that the Side Impact Protection Technology (SICT) makes the seats too wide to fit 3 alongside each other. The Diono Radian RXT and Clek Foonf are 2 other great options.
**The Diono Ranier has also just been released (rear facing up to 50 lbs!) and you can read more about it here.**
I have previously rejected the Chicco Nexfit Convertible Car Seat as a serious contender because it has attracted a lot of complaints about 2 of its features:
the crotch strap was hard to pull and get a tight fit
the shoulder pads were bulky and impossible to remove
There are 3 Different Models in the Nextfit Range
---
There are actually 3 different models in the Chicco Nextfit range of convertible car seats:
The shells on these 3 seats are almost identical and their main safety features are exactly the same. There are, however, some important comfort and convenience differences between the seats.
Chicco Nextfit Seats in Small Vehicles!
Aside from the safety and convenience features themselves, one of the best selling points of the 3 difference Nextfit car seats is that they are all great for those who don't have massive vehicles. Although there are some differences between the seats, their shells are the same size.
Not everyone has a massive SUV with 3 lovely wide rows of seats, and finding a premium convertible car seat to fit properly in your small sized (or even normal sized) vehicle can be a frustrating experience.
The other common situation that cries out for a convertible car seat with a smaller shell like the Nextfit seats is if you or someone else that will be sitting in the seat ahead of the car seat is tall and needs extra leg room.
If you are one of these people, and before you rush off to buy a bigger vehicle, give some serious consideration to the Chicco Nextfit range of seats.
Chicco boasts that this seat offers 30% more recline than any of its competitors.
You can read my side-by-side comparison reviews here:
The Updated Chicco Nextfit 65 
---
Chicco have modified both the crotch strap and the shoulder pads. All seats manufactured after October 2013 will now include these modifications.
The Shoulder Pads
Chicco have clearly listened to these criticisms and rectified the problems. It is always great to see a manufacturer respond in such a positive manner and not simply ignore the critics upon the basis that they know best.
Having conducted further safety testing in these areas, Chicco have replaced the unpopular shoulder pads with new removable ones. You can simply undo the velcro fastenings and remove them instantly. Not only are they now removable, but they are also less irritating for your child to wear since they have removed the rubber grip material. In fact, these pads are now entirely optional since the test results showed little (if any) safety difference between having them installed and not having them installed. So, if you have a pre-October 2013 seat you can very carefully cut the pads off and use the seat without them – please try not to cut the straps in the process since this will make the seat unsafe.
Children occasionally vomit in cars – it's a fact of life. They also often complain about straps being too tight and this can lead them to rebel against your efforts to seat them despite their objections. The new Chicco shoulder pads mean that you can now remove them easily to clean them in the event that your child vomits on them or if they just get dirty after a certain period of hard use. Your child is also far less likely to complain about the shoulder straps being uncomfortable now that they are no longer made of a fairly hard rubber material.
The Crotch Strap
The crotch strap is pulled to tighten the shoulder straps so that your child is safe and secure within the seat. Some people have been complaining that the crotch strap on the Chicco Nextfit 65 was too tight to pull easily. This issue was largely caused by the fact that the strap was rather too short. Having carefully reviewed these complaints it seems that the problem was more prevalent when the weather outside was cold and when using the lowest shoulder strap height settings. The risk in those circumstances is obviously that the shoulder straps are too loose and your child is at increased risk of injury in a collision since their body is insufficiently restrained.
Chicco have now lengthened the crotch strap by almost an inch to make it easier to get leverage and make proper tightening adjustments.
So, Is it now the Best Convertible Car Seat?
---
The Chicco Nextfit 65 is undoubtedly one of the best convertible cars seats on the market, but it is probably going a little far to proclaim it as the absolute best.
Initial reactions to the 2 modifications have been very positive and I would certainly put this seat in my top 3 – next to the Advocate ClickTight, the Diono Radian RXT and the Clek Foonf. I particularly like the 9 recline positions that help to prolong rear-facing since this has very significant implications for the safety of your child. It has everything that you would want in a convertible car seat and I would delighted to have my children ride in one.
When reading other reviews of this car seat, be sure to take account of the fact that many of them pre-date the modifications and are now out of date.
This video by BabyGizmo is slightly out of date, but it is a great review of the Chicco Nextfit 65:

Here is a 2014 User Review of the Chicco Nextfit:
---
There are some really great features on the Nextfit, including:
9 Recline positions
LATCH attachment for simple & secure installation
SuperCinch LATCH tightener to help you get a secure fit
Integrated slide path enables easy LATCH strap repositioning for conversion from rear facing to forward facing
Integrated LATCH storage compartments
RideRight bubble levels indicate the correct seat angle in both the rear-facing and forward-facing modes
Five-point harness with a two-position chest clip accommodates growing children in both rear-facing and forward-facing modes
Six-position headrest
One-pull harness tightener
Removable infant insert
Removable cupholder for use on either side of the seat
Machine-washable seat pad
NEW removable shoulder pads
NEW longer crotch strap for easier tightening
For use with children weighing 5 – 40 lbs. (rear-facing mode) and 22 – 65 lbs. (forward-facing mode)
Dimensions: 20.5″L x 19″W x 26″H
Weight: 25 lbs.
Watch this Video to See the Chicco Nextfit 65's Features
---
It is clearly a very nice looking seat, easy to install, and packed full of great convenience and safety features. Just watch the Video below for a full explanation of these features.
Watch the Chicco Nextfit 65 Demonstration Video
---
Rear-Facing Installation using the LATCH Anchors
---
February 2014 LATCH Guidelines
---
Chicco now advises that the LATCH lower tethers should only be used on this model until the child weighs more than 35 lbs rear-facing or 40 lbs forwards-facing. You can still continue to use the seat until the child weighs 65 lbs, but only if you re-install the seat using the adult seat belt instead. You should still use the top tethers as they are not affected by the law change.
Read more about this law change here.
Where to Buy the Chicco Nextfit 65
---
Check latest price of the Chicco Nextfit 65 here 
New Britax ClickTight Convertible Car Seats
---
Britax released a brand new range of convertible car seats in Autumn 2014, featuring their revolutionary "ClickTight" belt-installation system.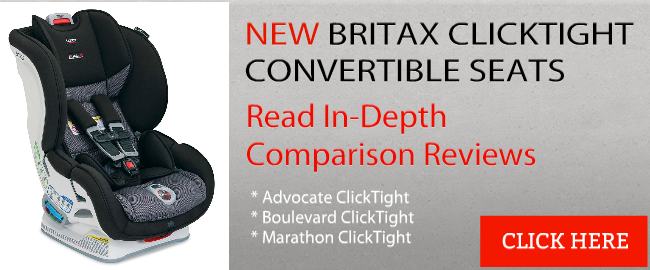 Safety Information
---
After purchasing any child car seat, you should always read the User Manual thoroughly before using it. It is also advisable to visit your local Fire Department or NHTSA Child Car Seat Inspection Centre to ensure that the seat is definitely suitable for your child's specific requirements and that you have installed it correctly. These services are usually provided free of charge.
You can find your nearest NHTSA Centre here.
Do You Need More Help?
---
If you need any further advice or assistance whatsoever, please feel free to contact me and I will do my very best to help.
If you have any other feedback about my "Is the Chicco Nextfit 65 the Best Convertible Car Seat″ post, please just leave a comment in the box below or send an email to kristian@kidsafetyfirst.com