Why Choose a Kidde Carbon Monoxide Detector?
---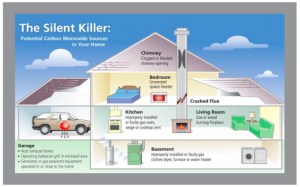 A Kidde Carbon Monoxide Detector will probably not be the cheapest option but, as in most things in life, you get what you pay for. I certainly would not look to save a little money on gas safety equipment by purchasing cheap and inferior products. If your budget is tight, I suggest that you find other areas to make savings that are not so essential for the safety of your children.
In any event, Kidde manufacture a wide range of carbon monoxide detectors to suit most budgets.
All 5 Carbon Monoxide Detectors in my home are manufactured by Kidde. In my experience, they are easy to use, well built, and very reliable. I have 5 detectors because I have 2 rooms with gas fireplaces and 3 storeys with landing areas and adjoining rooms. So, mine are positioned in each room containing fireplaces and within the open landing area of each storey. Click here to read more about correct carbon monoxide detector placement. 
One very important thing to remember is that your detectors should always be positioned at least 5 feet above floor height. This is because CO gas is lighter than air and rises to the ceiling before filling the room from the top down. Therefore, if your detectors were placed at or near ground level, the risk is that by the time the gas fell low enough to cause the alarm to sound it would be too late since your head would probably have been above the height of that alarm and you may well have already breathed in a fatal dose of gas.
This positioning issue will be an important factor in your decision between the different types of detector since, if you do not have high enough plug sockets, the plug-in type would clearly not be suitable for your needs.
What Different Types of Kidde Carbon Monoxide Detector are Available?
---
There are 3 types of detector:
Battery Powered
Mains Plug-in
Main Hardwired
I am going to briefly explain the pros and cons of each type and then recommend some great Kidde products.
(1) Battery Powered 
These are simple battery-powered standalone units that are positioned on a suitable surface within the home. They can either be placed on a shelf (or other flat surface above 5 ft) or screwed to the wall.
All of the detectors in my home are of this type and I have never had any problems with them. They are the most flexible option in my opinion given the different positioning choices available.
The only real downside is that most of them require you to change the batteries every year or so and this can be both inconvenient and expensive. If you are going to choose a battery powered detector then please factor in the price of replacement batteries when comparing the cost with other options. Comparing the price of plug-in detectors with battery operated detector is easier said than done since you will find it very difficult to calculate the energy costs of powering the plug-in type.
However, I have found a great battery operated unit that has a 10-year lithium battery than will never need to be changed (see below).
(2) Mains Plug-in
These units are quite similar in size to the battery powered ones, but they are obviously plugged into the main electricity supply instead. However, most units also come fitted with a back-up battery power supply so that in the event of a powercut, the detector continues to protect you and your family.
One of the main problems with these plug-in detectors is that you need to find suitable power sockets in every area that needs a detector. This makes them quite inflexible and they certainly were not a viable option for me.
How many of you have power sockets installed at a height of 5 foot or above in your rooms and/or hallways?
How many of you want to permanently occupy 4-5 of your power sockets with carbon monoxide detectors.
Since the battery powered detectors are very good, I personally see no need to even consider these products.
In the event that you disagree with me on this point, I have reviewed some of the best plug-in detectors here.
(3) Mains Hardwired
These units are hardwired onto the wall or ceiling as required. They also come with back-up batteries to keep you protected in the event of a power cut. They obviously require a fair amount of skill and effort to install, but if you are prepared to invest that effort then they are an excellent alternative to the battery operated detectors.
They were not a sensible option for me since I live in a 1910's period property and it would have required a very significant amount of re-wiring to fit them in the appropriate places.
The Best Battery Operated Kidde Carbon Monoxide Detectors
---
The Roll Royce premium unit is undoubtedly the Kidde C3010D 10-year sealed lithium battery detector with digital display.
This unit comes with a 10-year lithium battery and a 10-year sensor, which means that it lasts much longer than most of its competitors and you don't have to worry about having to replace the batteries every year.
When my current units expire, the C3010D units will be right at the top of the list of possible replacements.
Key Features
Digital Display shows CO level and updates the reading every 15 seconds
Meets US safety standards
85 decibel alarm – loud enough to wake the average sleeping adult
Nighthawk electro-chemical sensor, which is proven to be the world's most accurate
Test-Reset Button tests the alarm circuitry and horn
End-of-life signal chirps every 30-45 seconds
Tamper resistant feature prohibits a disabled alarm from being placed back onto the mounting bracket
10-Year Limited Warranty lasts the life of the alarm
If you like the C3010D's great features, but can't quite afford its price-tag, you should click here to check out the C3010 unit instead. 
Watch the Kidde C3010D/C3010 Video 

You can also check out my "Cheap Carbon Monoxide Detector" post here for some good units priced at under $20. However, you must bear in mind that those units will require battery changes every year and will last between 5-7 years instead of 10 years.
In my opinion, the Kidde C3010/C3010D units are the best Carbon Monoxide Detectors on the market and work out to be no more expensive than those that are cheaper to buy initially but, when you factor in frequent battery replacement and the much shorter lifespan, there is actually very little price difference overall.
The Best Hardwired Kidde Carbon Monoxide Detectors
---
Since I have never used a hardwired Carbon Monoxide detector myself and have very limited practical knowledge of hardwiring electrical products, it is a little difficult for me to provide a detailed review of these units.
However, there a 2 units that get my attention:
Kidde Model KN-COPF-i




Kidde KN-COB-IC



Both of these detectors get very good user reviews.
Buy Here or Read User Reviews – KN-COPF-i.
Buy Here or Read User Reviews – KN-COB-IC.
Further Information
---
If you have any feedback or questions about my Kidde Carbon Monoxide Detector Reviews, please feel free to leave a comment in the box below or send an email to kristian@kidsafetyfirst.com