My Quest to Find the Best Scooter Helmets
---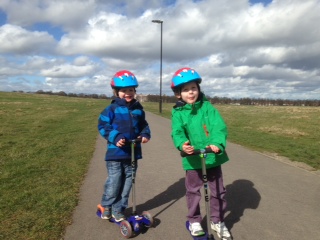 I have spent the past few days hunting down the best scooter helmets for kids in the USA and UK. Why have I done this? Well my own 4 year old twin boys have just about grown out of their very cute looking "Fireman Sam" bicycle helmets and they need replacing. Since scooting along on their Mini Micro Scooters is one of their favourite activities, it seemed sensible to look for new scooter helmets instead of bicycle helmets. They do pretty much the same job, but my kids aren't so keen on bicycles anyway and scooter helmets are so much better looking. In fact, I would go so far as to say that some of them are downright funky! 
I have chosen different helmets for UK and US kids since the Razor V-17 Child Helmets are too expensive to buy in the UK.
All of the helmets that I recommend are only on the market because they have met the relevant national safety standards – there is no sensible way to compare one against the other to find out which is slightly safer than the other. So how do you choose between them if you want to find the safest one for your child?
I strongly believe that the most important safety factors to consider when choosing between helmets are:
does it fit your child's head correctly?
does your child like the look of it?
The Correct Fit
---
It is essential to find a helmet that properly fits your child's head. If it's too tight then your child will not want to wear it and it may well scratch / bruise their head. If it's too loose it will distract them by wobbling around and, more importantly, will probably not be in the correct position to protect the most vulnerable parts of their head in the event of a fall.
All helmets come with adjustable chin straps and foam inserts, but some of the cheaper options don't give much flexibility in sizing.
Fortunately, you can buy scooter helmets that have adjustably plastic inserts fitted. You simply twist a round disc at the back of the helmet (whilst on your child's head) until to achieve a good fit. Obviously, this does NOT mean that a single helmet can be used from ages 2-10, but it does provide a far greater size range than those with just a chin strap.
Finally, on the subject of chin straps and helmet fitting, please be careful not to pinch your child's chin when you are securing it onto their heads. I can tell you from personal experience that this is very painful and leaves a nasty little pinch mark on their skin! If anything is going to cause them to object to wearing safety helmets. it is repeatedly being pinched under the chin by parents hurriedly fastening the straps. I find that inserting a finger between the buckle and their chin helps to avoid this and then I just pull the strap tight afterwards.
Does the Helmet Look Good?
---
When I say "Look Good", I mean from the perspective of a child rather than you since you're not the one having to wear it.
You might think that this is a rather trivial matter than has absolutely no bearing at all upon the safety of the helmet – and to a certain extent you are correct.
There is no color or pattern of colors that has been shown to be safer than the others. But, a helmet does not afford any protection unless your child is actually wearing it!
When they are very young, you will be accompanying them on their scooter trips and will be able to make them wear their helmet. In fact, I have my own adult scooter and can often be seen following behind my kids as they zoom across our local Town Moor paths. I get some very funny looks from other adults walking their dogs, but we're having a great time so I really don't care.
When they are old enough to scoot around the neighbourhood on their own or with friends, you won't be there to enforce the rule and the risk is that they will leave the house with their helmet securely attached to their head, but will then remove that ugly multicoloured monstrosity that you bought for $3 at a Car Boot Sale as soon as they are around the corner. If you let them have a say in the purchasing decision and direct them towards one of the very funky looking scooter helmets that are available, you can be pretty confident that they will happily wear it out and about when you are not there.
The Best Scooter Helmet (US)
---
#1

Razor V-17 Helmets
There is one company that stands out from the crowd when you think of scooters, and that is Razor. They are a Californian company set up in 2000 and have now become the world's no.1 scooter company. They make great scooters of all types and also manufacture helmets to go with them.
I should make it clear that these Razor helmets are NOT just for scooter use. They can be used for any mobile sport that requires head protecting such as cycling, skating and Skateboarding etc.
In my opinion, the Razor V-17 range of helmets is as good as it gets. They are solid looking, adjustable and look great (to my eyes and those of my 4 year old twins anyway). Sadly, they are too expensive to buy in the UK (£45), but they are much more reasonably priced in the US.
Buy the Razor V-17 Child Helmet.
Specifications:
thick outer shell
EPS foam inner liner
removable pads for easy cleaning
2 alternative foam inserts for different head sizes
11 vents allow enhanced air flow to keep your child cool
adjustable strap
2 year manufacturer warranty
There are different sizes and styles to choose from:
Child = Fits head sizes 21 to 22.5 inches (ages 5 to 8) [Note: the Amazon website incorrectly says 21.5 to 22!]
Youth = Fits head sizes 21.5 to 23 inches (ages 8 to 14)
Adult = Fits head sizes 23 to 25 inches
When in doubt, I always buy the larger size since if it is too big I can just keep it until they are bigger and the buy the next size down as well.


Click on the helmet images above to read more about that specific style.
Click here to see the full range of sizes and colors or buy a V-17 helmet.
#2

Little Nutty Helmets
If you have a larger budget and are searching for a helmet with a funkier & more colourful look, you should definitely check out the vast range of helmets made by the Nutcase company.
Their "Little Nutty" contains dozens of different crazy color/pattern options.
Here are just a few of the most popular styles:
Specifications:
Adjustable Spin Dial at the back of the helmet to ensure a snug fit;
3 sets of removable low-density polyurethane foam inserts for extra comfort and refining fit;
Anti-Pinch, Magnetic Buckle/chinstrap for one-handed operation
360 degree Reflectivity in front, back and side Nutcase logos
Injection-molded ABS shell and Expanded Polystyrene (EPS) protective inner foam for high impact protection
2 Front intake vents, 7 multiple top-mounted exhaust vents, and 2 Rear exhaust vents
The Best Scooter Helmet (UK)
---
As I have already stated, I am not prepared to pay £45 for the Razor V-17 helmets in the UK (that's about $65!)
However, I have found an alternative that I think is at least as funky (if not more so) at a reasonable price.
The Micro Safety Helmets are made by the same company that makes the Mini Micro scooters that my kids are riding in the photograph at the top of this page. But, please note that they are not wearing Micro Safety Helmets in that photo – they are the Fireman Sam ones that they have had since they were about 2 years old.
The Micro Safety Helmets cost £19.95 and are worth every penny.
Specifications:
suitable for bicycle and scooter riding (amongst other things)
Extra padding for a comfortable snug fit
Adjustable straps & rear adjustment wheel, for the absolute best fit
Please choose the size carefully. Measure the full circumference of your childs head.
Sizing: Small: 48-52cm Medium: 53-58cm Large 58-62cm
The Micro Safety Helmets look like this:
Click on the helmet images above to read more about that specific style.
These helmets are great – they are solidly built, comfortable and simple to adjust. The adjustment wheel at the back is very easy to use and ensures a perfect fit every time. – you literally just twist it to get a snug fit.
I am so impressed with these helmets that I have already bought one for my daughter – and she absolutely loves it!
I will be ordering a couple for my boys once I have measured their heads properly tonight.
Click here to see more styles of Micro Safety Helmets.
You can also buy Micro Safety Helmets and Mini Micro Scooters at John Lewis using this link.
You can click here to buy one of the Mini Micro Scooters shown in the photograph at the top of this page.
Good Alternatives to the Micro Safety Helmet
---
#1

Kiddimoto Safety Helmets
The other helmets that I would consider include the Kiddimoto Safety Helmets. They are a little more expensive at £24.99.
They also come in a range of funky colours and get excellent User Reviews.
#2

Little Nutty Helmets
I have already mentioned this great range of funk helmets here. They are very similar to the Micro Safety Helmets in terms of functionality, but come in a much wider range of color/pattern options. You can check out the full range of options here.
You can buy the Little Nutty Helmets in the UK here.
They Make Great Scooters Too
---
The Micro Scooter Company make the best toddler scooters in the world in my opinion.
Click here to read my Full Mini Micro Scooter Review.
Further Information
---
If you have any questions or feedback in relation to my "Best Scooter Helmets for Kids" post, please leave a comment in the box below or send an email to kristian@kidsafetyfirst.com