Finding the Best Convertible Car Seats in 2023
---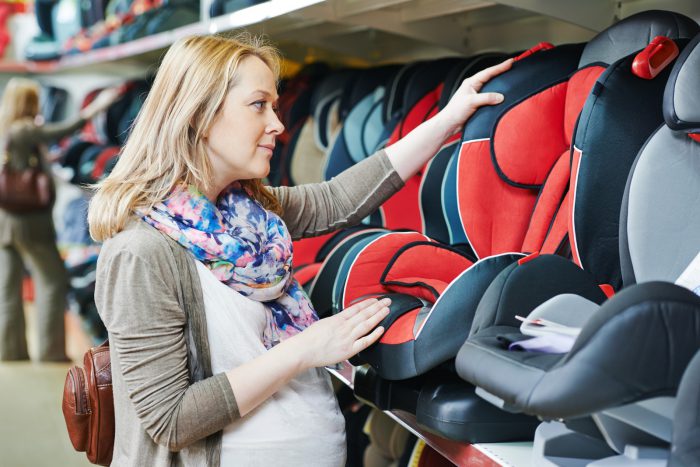 If you are a parent hoping to find the Best Convertible Car Seat available to buy in the USA and Canada in 2023, you need to first understand the limitations to such a search.
The truth is that no single seat can legitimately claim to be "the best" convertible car seat of 2023 for every child. There is no universally accepted league table of convertible car seats ranked from best to worst for you to consult when choosing a seat for your child.
The good news, however, is that car seat safety is improving all of the time and every seat on the market in 2023 is required to pass strict Federal safety tests.
Don't be fooled into buying any random cheap seat though because they all need to pass minimum safety tests.
Not all seats are equal when it comes to their safety and convenience features and there is a wide range to choose from.
As with most things in life, you get what you pay for when choosing a convertible car seat.
If you want to buy a convertible car seat with the very best safety and convenience features, you are going to have to pay for that luxury. All of the convertible car seats discussed within this post are high quality premium products.
All of the seats mentioned within this post have passed the relevant federal safety tests and all of them come fitted with premium safety and convenience features that far exceed these minimum requirements.
Beware of people who direct you towards the NHTSA "Ease of Use" tests as evidence of which seats are safer than others. As the NHTSA repeatedly points out, their tests are NOT specifically designed to differentiate seats upon safety grounds. Instead, they consider factors that are relevant "ease of use".
Whilst this is useful information to consider, they do NOT evaluate each of the seats' safety features and, I repeat, they do NOT publish a league table of seats ranked from best to worst.
Once you have decided to buy a premium convertible car seat for your child from the 6 options discussed below, you can be reassured that it will be one of the best convertible car seats available in 2023 and will come with plenty of safety and comfort features.
Choosing between these premium convertible car seats should be a question of considering which one seems to be the best for your individual child, vehicle, and/or lifestyle.
Since research suggests that as many as 75% of car seats are fitted incorrectly, the safest seat is often the one that is fitted correctly. There is not much point in spending $400+ on a top-of-the-range car seat if it is not installed in a safe and secure manner.
One of the reasons that I love the Britax Clicktight Convertible Seats is that they are so easy to install using the seat belt.
So, the main purpose of this post is to identify some of the best premium convertible car seats on the market and to show you where to find out more detailed information about the ones that interest you.
My 5 Top Convertible Car Seats of 2023
---
In no particular order, here is my list of the best convertible car seats for 2023 onwards:
#1 Britax ClickTight Range
Britax Convertible car seats have been around for many years now and they are constantly being improved and updated. Their latest "ClickTight" series of seats have been around for a few years and remain a very popular choice.
The Britax convertible car seats are branded "ClickTight" due to the fact that they have taken their revolutionary "ClickTight" installation system (previously only found on their harness to booster seats) and added it to ALL of their current convertible seats.
Like most premium convertible car seats, the Britax ClickTight models are suitable for children weighing between 5 and 65 lbs.
Why Is ClickTight So Good For Parents?
There are 2 very important reasons why the ClickTight installation system found on all Britax convertible cars seats is so good for parents:
The 2014 LATCH Law changes mean that convertible car seats need to be re-installed using the seatbelt once your child reaches a certain weight (40 lbs for the Britax ClickTight seats);
Standard belt-fitting systems can be confusing for parents and research suggests that about 75% of seats are incorrectly installed.
So, although the ClickTight installation method does not bring any "direct" safety benefits, there are likely to be some major "indirect" safety benefits for those parents that otherwise might find it difficult to install their child's seat safely using more traditional belt-fitting mechanisms.
Getting a proper installation is a huge part of child car seat safety and any technological development that makes this process easier is a very good thing.
Here is a video about the Britax ClickTight System.

There are 3 seats in the new series of Britax convertible car seats:
The Advocate is the most expensive option, followed by the Boulevard and then the Marathon.
In addition to the "ClickTight" installation system being introduced, the Britax Convertible car seats also have some other improvements over the previous G4 models.
Britax ClickTight Seats – Key Features:
Weight Range – 5 to 65 pounds
Maximum Height – 49 inches
Steel Frame
Safecell Crumple Zone
Side Impact Protection
Increased shell height, which means that the maximum seated shoulder height is greater than before
14-position headrest adjustment
7-Position recline with automatic level indicator
Find Out More About the Britax ClickTight Convertible Seats …
You can read my latest in-depth comparison reviews of the new Britax ClickTight Seats here:
Check Best Prices of the Britax ClickTight Seats
Read User Reviews of the Britax ClickTight Seats
#2 Peg Perego Primo Viaggio
The Peg Perego Primo Viaggio Convertible is a very stylish car seat that comes with excellent maximum weight limits (5 to 70 lbs). It can also be used for an extended period in the rear-facing position (up to 45 lbs).
It has many additional safety features, including Side Impact Protection (SIP), EPS foam, Shock-Absorbing Foam Element (SAFE), and a contoured steel back plate.
Rather than list all of the specifications and features here, you can watch this very helpful review video created by "BabyGizmo":
Peg Perego Seat – Key Features:
Weight Range – 5 to 70 pounds
Maximum Height – 49 inches
Steel Frame
EPS Foam and SAFE
Side Impact Protection
10-position headrest adjustment
Multiple recline options
Check Best Price of Peg Perego Convertible Seat
Read User Reviews of Peg Perego Convertible Seat
Find Peg Perego Convertible Seats in Canada
#3 Clek Foonf & Fllo Seats

The Clek Foonf and Fllo Convertible Car Seats boast the highest rear-facing weight limit of 50 lbs and a height limit of 43 inches (provided that the top of the head is at least 1 inch below the top of the headrest).
However, please note that this seat is NOT suitable for newborn babies UNLESS you buy the Clek Infant-Thingy Insert, which makes it suitable for use from 5 lbs upwards, Without the infant insert, the usable weight limits are 14 to 65 lbs.
They come with fairly high price tags, but in return you get some pretty impressive safety features, including a metal substructure, 3 layers of energy-absorbing foam, and an anti-rebound bar.
They are also 2 of the slimmest convertible car seats that you can buy (just 17 inches across), which means that you would almost certainly be able to fit 3-in-a-row in a standard family-sized vehicle.
You can read my in-depth comparison review of the Clek Foonf and Fllo seats here.
Clek Convertible Seats – Key Features:
Weight Range – 5 to 65 pounds
Rear-facing up to 50 pounds
Maximum Height – 49 inches
Steel Frame & Anti-rebound bar
Side Impact Protection
(R)EACT Technology
Video Comparison Review of the Foonf and Fllo Seats
---

Check Best Price of the Clek Fllo
Note: The Clek Fllo is the younger sister to the Clek Foonf convertible car seat. It offers a lighter, more compact, and slightly cheaper alternative to the Foonf.
Check Best Price of the Clek Foonf
Find Clek Convertible Seats in Canada
#4 Chicco Nextfit 65 & Zip
The Chicco Nextfit 65 Convertible car seat is rated as suitable for use between 5 to 65 lbs (rear-facing up to 40 lbs).
Since Chicco improved the length of the crotch strap and swapped the bulky shoulder pads for ones that are much easier to remove, the Nexfit 65 has become a real contender.
Aside from some impressive safety features, one the main advantages of this seat over its competition is that it is quite compact, pretty easy to install, and has no fewer than 9 recline position with an easy-to-read level indicator. It looks pretty stylish too!
There is also a Chicco Nextfit Zip model that is worth considering.
Chicco Nextfit Seats in Small Vehicles!
Aside from the safety and convenience features themselves, one of the biggest selling points of the 3 different Nextfit convertible car seats is that they are all great for those who don't have massive vehicles. Although there are some differences between the seats, their shells are the same size.
Not everyone has a massive SUV with 3 lovely wide rows of seats and finding a premium convertible car seat to fit properly in your small sized (or even normal sized) vehicle can be a frustrating experience.
The other common situation that cries out for a convertible car seat with a smaller shell like the Nextfit seats is if you or someone else that will be sitting in the seat ahead of the car seat is tall and needs extra leg room.
If you are one of these people, and before you rush off to buy a bigger vehicle, give some serious consideration to the Chicco Nextfit range of seats.
Here is a video review of the Chicco Nextfit Seat.

If seat width is your main consideration though, take a look at the Diono Radian seats discussed below.
Chicco Nextfit Seats – Key Features:
Weight Range – 5 to 65 pounds
Rear-facing up to 40 pounds
Maximum Height – 49 inches
SuperCinch LATCH
Steel Frame
Side Impact Protection
9 Recline Options
Read my full comparison review of the Chicco Nextfit 65 & Nextfit Zip.
Check Best Prices of the Chicco Nextfit seats here.
#5 Diono Radian 3Q Range
There are 3 seats to choose from in the Diono Radian 3Q Series of convertible car seats.
From the bottom to the top of the range, they are:
Although there are some significant differences between these seats, and I highly recommend that you read my seat comparison reviews (links below), I repeat, all of the Diono Radian seats are just 17 inches wide!
To give you an idea of how that compares with one Diono's main competitors, the Britax Boulevard ClickTight Convertible Seat is 18.5 inches wide. This might not sound like much, but it is when you are trying to fit 3 of them side-by-side, or 2 car seats plus an adult passenger along a single row.
Note: The Diono Radian Seats can be used as convertible car seats, but also transform into harness to booster seats, and then belt-positioning booster seats as your child grows.
As a result, they have wider maximum height and weight limits than the other seats mentioned within this review.
I have already written several detailed comparison reviews of the latest Diono Radian car seats and, rather than repeat myself here, you can find those reviews by clicking the following links:
Diono Radian 3QXT vs 3QXT Plus Here are some video reviews of the latest Diono Radian Convertible Car Seats.
Diono Radian Convertible Seats – Key Features:
Weight Range – 4 to 120 pounds
Rear-facing up to 50 pounds
Maximum Height – 57 inches
SuperLATCH
Steel Frame & Anti-rebound bar
Side Impact Protection
12 Position headrest
17 inches wide
If you have already read enough about the Diono Radian seats and are almost ready to make a purchase, you can check the best prices and/or read more user reviews by following the links below.
Check Best Prices of Diono Radian 3QXT Seats
Find the Best Canadian Prices and User Reviews
Safety Information
---
After purchasing any child car seat, you should always read the User Manual thoroughly before using it. It is also advisable to visit your local Fire Department or NHTSA Child Car Seat Inspection Centre to ensure that the seat is definitely suitable for your child's specific requirements and that you have installed it correctly. These services are usually provided free of charge.
You can find your nearest NHTSA Centre here.
Get in Touch
---
If you have any comments to share or questions to ask about my Best Convertible Car Seat 2023 review, please leave them below and I will get back to you as soon as possible.