Why am I writing about Child Harness Backpacks?
---
One of the best child safety products that my wife and I bought were 2 Child Harness Backpacks. We bought them for our slightly mischievous and adventurous twin boys when they were about 18 months old and it gave us the freedom to take them out and about without an army of helpers and without worrying excessively about whether or not they were going to run off into the road or river – I can't recommend them highly enough.
Do You Need Child Harness Reins?
---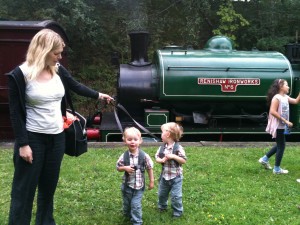 Once your children are old enough to walk around outside rather than remain in a buggy or pushchair, you will need to consider buying some reins. The problem is that when they first get this freedom they often find it difficult to work out where the boundaries are and their road sense is not yet developed at all. Because of these risks, it is very tempting to just keep them in strollers longer than is necessary. But, allowing your children to experience greater freedom and get used to walking along the street is a vital part of their development.
If you have 1 very compliant child and/or an army of helpers you might not need any but, if you have twins or more, reins are an absolutely essential piece of kit if you want to avoid the terror of them running off in different directions at top speed. Toddler top speed might not actually be that fast but when your precious children are running in opposite directions close to a busy road it's certainly fast enough to cause you to panic!
What are the Options?
---
There are plenty of cheap child harness reins on the market, but many of them can be very difficult to adjust properly and the design of some sets of reins is clearly flawed – the slightest tug on the reins can cause your child to end up tipping forwards onto their face if you're not careful! The straps appear to be attached way too far down the child's body?
The Best Child Harness Reins?
---
In my opinion, the best products available are the child harness backpacks. They are worn like a normal backpack and have a strap attached to the top for the parent to hold. Because the strap is attached at the top of the backpack the risk of your child falling forwards is significantly reduced, if not completely eliminated. There are also some added bonuses when you use these backpack reins:
you can use them to store small items when you are out and about (kids love to have this little job!)
when safe to do so you can tuck the handles in and allow your child some extra freedom
children seem to like them much more than reins (a happy child is far easy to keep safe than an unhappy one!)
The LittleLife Backpack Range
---
In my opinion, there is no other manufacturer that comes close to LittleLife. We tried the standard reins and found that they were more trouble than they were worth. Our twin boys absolutely hated the standard reins and they would regularly end up face down on the ground. I can't remember who told us about the LittleLife Daysacks, but we will be forever indebted to them. They were absolutely fantastic and made day trips a much more pleasant and manageable experience.
They are the only reins that I will recommend as all other similar products that I have researched are inferior. I have heard a few people complain that they don't hold much, but you have to remember that they are child safety reins first and foremost, not fully functional backpacks. The advertised capacity is 3 litres and I found that to be more than enough to store a drink or a few small snacks.
If you are reading this and know of any other great reins I would be happy to reconsider my position on this matter, but for now I am happy to recommend the LittleLife range of child harness backpacks.
Although my wife and I chose the LittleLife Runabout Daypacks (1 red and 1 blue – see image above), they also come in a variety of fun animal styles, including:
Clownfish
Bee
Ladybird
Butterfly
Turtle
Dinosaur
Shark
How Much do the LittleLife Daysacks Cost?
---
They vary in price depending upon the particular style that you choose.
Full LittleLife Daypack Product Range & More User Reviews
---
The LittleLife Daypacks are available in the UK and US. If you want to see the full product range and/or read more excellent user reviews, just click on the appropriate links below.
UK Customers
If you don't want to just take my word for it, just have read some more User Reviews here.
Click here to have a look at the full range of LittleLife Daypacks.
US Customers
If you don't want to just take my word for it, just have read some more User Reviews here.
Click here to have a look at the full range of LittleLife Daypacks. 
Further Information
---
If you have any feedback or questions about Child Harness Backpacks, please feel free to leave a comment below or send an email to kristian@kidsafetyfirst.com