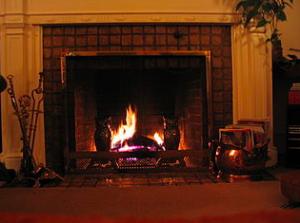 A good child-proof Fire Guard serves 2 useful purposes:
It prevents your child from getting burnt
It prevents your child from falling against the sharp edges that are often a feature of fireplaces
Just as fireplaces come in a seemingly infinite array of shapes and sizes, so do child proof Fire Guards.
Identifying the correct size can be a bit of a challenge if you have an unusual shaped fireplace, but there are products that come with additional panels that can be added to accommodate almost any shape. Those of you fortunate enough to have standard sized/shape fireplaces have a wide range of options to choose from.
The Different Types of Fireguard
(1) Basic Extendable Fireguards
These fireguards are generally made of metal with a wire mesh look about them. Whilst they are extendable across the width of the fireplace, they will not extend forwards for those with deep hearths. The Clippasafe Extendable Fireguard (UK & USA) (shown on the right) and the Tippitoes Extending Fireguard (UK) are both fine examples of this type of fireguard. The only real difference between them is their range of extension:
Clippasafe – depth 45-50 cm, width 100-150 cm (up to 213 cm with optional extension)
Tippitoes –  depth 44 cm, width 96.5 – 168 cm
If you have a perfectly rectangular shaped hearth then these fireguards are much cheaper than the fully configurable ones like the BabyDan Premium Heath Gate.
(2) Fully Configurable Fireguards for All Fireplaces
These are ideal for all fireplaces, including those that are of an unusual size or shape. I have a BabyDan Premium Hearth Gate with an extension panel to fit around one of my large fireplaces and it is great. Whilst we don't actually use the fire itself, this fireguard does a great job of keeping the children away from the sharp edges and prevents them from trying to eat the fake lumps of coal! They also come with a gate as one of the panels in case you need to gain access to the fireplace. One final great thing about the BabyDan Premium Hearth Gate is that, in addition to being a fireguard,  if you buy enough panels it can be used as a playpen. I recommend the following products:
BabyDan Premium Hearth Gate Fire Guard (UK)
– 5 panels (including 1 gate)
– Each panel measures 60 cm wide x 75 cm high
– Wall fixings are included
[button link="http://www.amazon.co.uk/BabyDan-Premium-Hearth-Guard-Black/dp/B000KPOI7G/ref=sr_1_1?s=baby&ie=UTF8&qid=1393099857&sr=1-1&keywords=babydan+premium+hearth+gate+fire+guard#productDetails" color="purple" newwindow="yes"] Check Amazon Price[/button]
[button link="http://www.awin1.com/cread.php?awinmid=1203&awinaffid=199079&clickref=BD%20Fireguard&p=http%3A%2F%2Fwww.johnlewis.com%2Fbabydan-hearth-gate-fireguard%2Fp231832277″ color="green" newwindow="yes"] Check John Lewis Price[/button]
[button link="http://tidd.ly/b01ee835″ color="lightblue" newwindow="yes"] Check Price at Kiddicare[/button]
Kidco Auto Close Hearth Gate (USA)
– 5 panels (including 1 gate)
– Total gate measures 132 x 31 inches
– Automatic door-closing mechanism
[button link="http://www.amazon.com/Kidco-Auto-Close-HearthGate-Black/dp/B006OJIKD0/ref=sr_1_2?ie=UTF8&qid=1393100430&sr=8-2&keywords=kidco+auto+close+configure+gate#productDetails" color="purple" newwindow="yes"] Get Best Price Here[/button]
(3) Wood Burner Surround Fireguards The great thing about the configurable fireguards listed above is that they can be used to surround a wood burner, even if it is positioned in the middle of the room – you simply create a circle / octagon shape around the wood burner using the required number of additional gate panels.