The Britax Advocate ClickTight ARB
---
Any review of the Britax Advocate ClickTight ARB convertible car seat ought to start by explaining what "ClickTight" is and what "ARB" stands for, so here goes.
The ClickTight part of the model name refers to Britax's unique and foolproof mechanism for installing the seat using a vehicle's seat belt when it is not possible to use the LATCH connectors. Britax first introduced the ClickTight installation mechanism into their "harness to booster" range of car seats (for older children) and it proved so popular amongst parents and car seat safety technicians that Britax took the welcome step of extending the ClickTight system to their convertible car seats as well.
The ClickTight installation system is explained and demonstrated fully further down this page.
ARB stands for Anti-Rebound Bar. The lack of an anti-rebound bar on the previous Advocate G4 and basic Advocate ClickTight car seats was perhaps the one thing that prevented people from saying that they came fitted with every conceivable safety feature.
The ClickTight ARB models come pre-fitted with an anti-rebound bar, the safety benefits of which are explained fully below.
The Main Safety Features 
---
The Advocate ClickTight ARB convertible car seat is Britax's top-of-the-range premium model and contains every imaginable comfort and safety feature. In fact, I can't think of a single seat that has more to offer than the Advocate ClickTight ARB.
So, what are the main safety features and how do they work?
#1

Child Height & Weight Limits
The Advocate ClickTight ARB comes with the following weight and height limits:
Rear-facing from 5 to 40 lbs, or 49″
Forwards-facing from 20 to 65 lbs, or 49″ (must be at least 1 year old)
Note: Although this seat is rated as suitable for forwards-facing usage from 20 lbs and upwards, the American Academy of Pediatrics recommends that children should remain rear-facing for at least 2 years and preferably longer. So, do NOT rush to switch your child to forwards-facing mode once they reach 20 lbs. Instead, try to keep them rear-facing for as long as they remain within the height / weight limits for that mode of use.
You should also bear in mind that there are some "seated shoulder height" limits to be aware of as well. They are:
Rear-facing – 7.6 to 18.65″
Forwards-facing – 12 to 18.65″
The rear-facing weight limit is not the highest, but it should enable your child to remain in that seating position for at least 3 years or so.
This 40 lb limit is pretty standard, but there are extended rear-facing seats on the market.
#2

The ClickTight Installation System
The ClickTight installation system involves a simple 3-stage process. You simply open the compartment, feed the seat belt through the appropriate route, and then close the compartment until you hear the "click". That's it!
The ClickTight installation mechanism on its own does not make the car seat any safer, but there is a very important indirect safety benefit for some parents in using the ClickTight system.
Installing convertible car seats using the vehicle's seat belt can be a daunting prospect for many parents and, as a result, many parents get it badly wrong. Research suggests that as many as 75% seats are installed incorrectly, and this is a serious safety concern.
So, achieving a safe installation is vital to child car seat safety and any mechanism that makes this easier must make the seat safer than its competitors.
If you are thinking that this doesn't apply to you because your vehicle has LATCH anchors, then you are mistaken. While you may well start out by installing the seat using the LATCH connectors, there will come a time later on when you have to switch to belt-installation because your child is too heavy to continue using LATCH.
Convertible car seats have LATCH weight limits and you must stop using the LATCH connectors once the appropriate limit has been reached (see User Manual for full details).
You will notice that there are different seat belt routes for forwards-facing and rear-facing – you must use the correct one.
Note: In 2015, Britax phased out the rear-facing tether so please make sure that you check the user manual for up to date information in that regard.
#3 

SafeCell Base
The Britax SafeCell Base is designed to compress in a crash, lower your child's center of gravity, and counteract the forwards rotation of their seat. In so doing, this reduces the risk of your child's head hitting the back of the seat in front of them.
#4

SafeCell Impact Stabilising Steel Frame
The Britax Advocate ClickTight ARB comes with a SafeCell Impact Stabilising Steel frame. This strengthens the seat's connection to the vehicle and reduces forward flexion in the event of an accident.
Obviously, anything that reduces the risk of your child's head coming into contact with the back of the seat in front of them is a good thing.
#5

Anti-Rebound Bar (ARB)
The new Anti-Rebound Bar is a padded steel bar that is attached to the foot-end of the seat. Its purpose to manage the rebound of the seat during a collision, by pressing into the back of the vehicle's seat front.
In testing for the US Federal Motor Vehicle Safety Standards and the Canadian Motor Vehicle Safety Standards, Britax found that the ARB minimizes the risk of injury to rear-facing children by reducing rebound rotation by 40% and stabilizes the car seat during frontal, rear-end, and side-impact crashes.
So, there appears to be good evidence that the ARB enhances the safety of the seat.
#6

SafeCell Impact Absorbing Tether
The Impact Absorbing Tether is a strap that is used to secure the top part of the seat to to the lower anchors in your vehicle. The top tether system is a very important safety feature that helps to prevent the seat from flexing forwards in the event of a collision.
You can see how the Impact Absorbing Tether helps to protect your child in a crash by watching this video:
#7

Multiple Recline Positions with Automatic Level Indicator
This seat comes with 7 different recline positions and an automatic level indicator to help you to find a comfortable position for your child when using the seat and also to ensure that you can quickly and easily install the seat at a recline angle that is safe for your child.
The Britax automatic level indicator means that you can feel confident that the recline position is safe rather than simply having to guess.
#8

Quick-Adjust Harness & Headrest
As your child's height increases, you will need to adjust the height of the harness straps and headrest to ensure a correct fit. Many seats require you to re-thread the harness each and every time you make these height adjustments and this can be a real chore.
The Britax Quick-Adjust system is really very simple.
You just press the red button and pull the top handle until you get the correct position.
#9

Max Side Impact Protection
The Advocate ClickTight ARB comes with 3-layers of side impact protection, including Side Impact Cushion Technology (SICT).
What is SICT?
Britax Side Impact Cushion Technology (SICT) comprises energy-management cushions that are positioned on either side of the seat. These cushions reduce side impact collision energy transfer by about 45% and are said to absorb side impact forces before they even reach your child. This reduces the risk of serious head injuries.
The cushions certainly do look very reassuring and Britax claim that they make a significant difference in side impact collisions.
The one downside is that the Side Impact head wings make the Advocate ClickTight ARB 20.5 inches wide.
If you need to fit 3 car seats in a row, this might be a problem. If not, the extra protection is well worth paying for in my opinion.
#10

Click & Safe Snug Harness Indicator
The Click & Safe Snug Harness Indicator uses an audible click to tell you when the harness is tightened correctly, rather than requiring you rely entirely upon your own judgment.
You are still advised to double-check with your own eyes and hands rather than just relying entirely upon the Click & Safe indicator.
If the indicator suggests that your child is snug enough but s/he still looks a little insecure – tighten a little more.
It is best used as a warning system when your child is not snug enough rather than an absolute guarantee that your child is snug enough.
The NHTSA "Ease of Use" – 5 Stars
---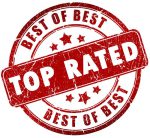 Although the National Highway Traffic Safety Administration (NHTSA) does NOT carry out official safety tests that allow you to rank seats in order, it does carry out pretty extensive "Ease of Use" evaluations on the seats and then publishes the data to help parents.
These "Ease of Use" ratings are a useful starting point when considering which convertible car seat to buy.
What are the "Ease of Use" Ratings?
According to the NHTSA, the safest car seat is the one that:
is appropriate for your child's age, height and weight
fits in your vehicle correctly
is easy to use
A seat's "Ease of Use" rating is based upon:
The Content & Clarity of the Seat's Instruction Booklet
How Easy it is to Install the Seat
The Content & Clarity of the Seat's Labels
How Easy it is to Restrain the child in the Seat
Since correct car seat installation is such an important factor in ensuring that it is safe, it is perfectly reasonable to look at these ratings because they are specifically measuring the ease with which the seat can be used safely.
Each of the 4 "ease of use" factors listed above are given a "star rating" out of 5 and then an overall star rating at the end that takes account these individual factors.
The Britax ClickTight seats are the only convertible car seats that currently boast a 5-Star Overall Ease of Use Rating in the forwards-facing position.
Advocate ClickTight ARB – Other Features
---
The other notable features include:
Plush Foam Padding in the cover, buckle pad, shoulder pads and removable pillow surrounds your child in comfort at every touch point.
EZ-Buckle System keeps buckles and straps out of your way when placing your child in the car seat.
Easy-Remove Cover for cleaning convenience.
Certified for Aircraft Travel
Made in the USA with global components
Advocate ClickTight (non-ARB) – Video Review
---
Advocate ClickTight ARB – My Verdict
---
The Britax Advocate ClickTight ARB has pretty much everything that anyone could want from a convertible car seat. The only downside is that its rear-facing weight limit is not as generous as other seats.
I wouldn't hesitate to buy one of these seats if I had another child, unless I needed to fit 3 in a row in a normal-sized vehicle.
The only other Britax convertible car seat that comes fitted with both the ClickTight installation system and the Anti-Rebound Bar (ARB) is the Britax Boulevard ClickTight ARB.
The only difference between the Advocate and Boulevard ClickTight ARB seat is that the Boulevard version does NOT have the SICT head wings. In all other respects, the seats are exactly the same.
So, if you love the Advocate ClickTight ARB, but need a slimmer seat, you should seriously consider the Boulevard version.
Where to Buy the Advocate ClickTight ARB
---
Check Best Price of the Advocate ClickTight ARB.
Canadian ClickTight Seats
---
Find Britax ClickTight ARB Seats in Canada.
Safety Information
---
After purchasing any child car seat, you should always read the User Manual thoroughly before using it. It is also advisable to visit your local Fire Department or NHTSA Child Car Seat Inspection Centre to ensure that the seat is definitely suitable for your child's specific requirements and that you have installed it correctly. These services are usually provided free of charge.
You can find your nearest NHTSA Centre here.
Get in Touch
---
If you have any comments or questions in relation to my Britax Advocate ClickTight ARB Review, please leave a comment in the box below or send me an email.