List Price: $339
Weight Range: 5 to 65 lbs (RF to 40 lbs)
The Good – Base with SafeCell technology; Integrated Steel Bars; HUGS with SafeCell Technology manages crash energy and forward head movement; Click & Safe Snug Harness Indicator for added peace of mind. No re-thread harness system.
The Bad – It is quite expensive; No SICT.
The Bottom Line – The Britax Pavilion G4 is the next seat down from the top of the range Advocate G4. It has almost every possible safety feature that one could imagine in a car seat – apart from Side Impact Cushion Technology (SICT). This fact is borne out by the excellent safety test results. It is also a comfortable seat that is easy to install and adjust.
Britax Pavilion G4 – Overview
---
The Britax Pavilion G4 is a premium convertible car seat that is suitable for children weighing between 5 and 65 lbs (provided they are no more than 49 inches tall). It can be used rear facing up to 40 lbs.
It can be installed in your vehicle either using the adult seat belt or LATCH connectors.
The Pavilion is very similar in look to the Britax Marathon G4 and Britax Boulevard G4 car seats. Just like the Boulevard G4, the Pavilion G4 comes with HUGS Chest Pads with Safe Cell Technology and True Side Impact Protection.
HUGS Chest Pads with Safe Cell Technology – safe cells are engineered structures that are designed to compress in a crash an manage energy to reduce the amount of impact forces experienced by your child.
The benefits of Safe Cell Technology are explained in this video:
---
Note: The G4 models come with a slightly difference HUGS Chest Pad – it no longer has a strap running through it that attaches to the shell and the loosening mechanism is said to be smoother.
True Side Impact Protection provides greater protection against side impact collisions due to the special energy-absorbing foam that is used to line the head restraint. This enables your child's spine to remain straighter during side impacts, which in turn reduces the risk of injury.
The benefits of True Side Impact Protection are explained in this video:
---
However, it also comes with one extra safety feature that is not found in either of the other 2 seats:
Click & Safe Snug Harness Indicator
Click & Safe is an audible indicator to help determine when your child's seat harness is within the appropriate range of "snugness". It is designed to be used as an additional safety feature as opposed to replacing your own judgment completely in this matter. Obviously, if the indicator suggests that your child is snug enough but s/he still looks a little insecure – tighten a little more! It is best used as a warning that you are not snug enough (if not within the range) rather than an absolute  guarantee that your child is snug enough.
So, if it says your child is not snug enough then tighten more. If it says that your child is snug enough, still check with your own eyes and hands that this is correct.
Is Click & Safe Worth It?
---
The Pavilion costs about $20 more than the Boulevard yet the only significant difference is the Click & Safe indicator – so is it worth the extra money?
I think that the answer is that it just depends how confident you are ensuring a secure fit without it. If you are not confident, then it might be worth considering. Personally, I am not sure that I would pay the extra money just for this feature – but then I have had almost 5 years of practice securing children into car seats and so I would probably come within the "pretty confident" category. My attitude might be different if I was buying a convertible car seat for my first child.
The justification for this safety feature is that an NHTSA study found that 59% of child car seat harnesses were too loose. This leaves your child vulnerable in an accident since it allows your child's body to move out of the ideal safe position more easily and, in some cases, children have actually been ejected from their seat!
Watch the video below to see how the Click & Safe feature works (it shows the G3 model but remains valid for the G4 model):
Do You Need Side Impact Cushion Technology?
---
What is SICT?
Side Impact Cushion Technology (SICT) comprises energy-management cushions on either side of the seat that reduce side impact collision energy by 45%. These cushions absorb side impact forces before they reach your child, thereby reducing the risk of serious head injuries.
Watch the video below to see an explanation of SICT:

The main downside with SICT (apart from the extra $30 or so) is that it makes the Advocate G4 seat very wide and you certainly wouldn't be able to fit 3 seats in a row of you buy one of those seats.
The Advocate G4 is the only seat in the G4 series to have this SICT safety feature and it obviously comes with a higher price tag. I would pay the extra money for this additional safety feature if it was not for the fact that I have 3 kids to seat in the same row, and the Advocate G4 just would not fit.
So, for me the Pavilion would be the best alternative for those that need to seat 3 kids in a row and want the extra reassurance of the "Snug & Safe" indicator.
If you are confident enough to go without the "Snug & Safe" indicator, you should choose the Boulevard G4 instead.
Key Features
---
Base with safecell technology features safecells designed to compress in a crash, significantly lowering the center of gravity and counteracting the forward rotation of the child seat which normally propels the child toward the front seat

Hugs with safecell technology

manages crash energy and forward head movement while keeping the chest clip properly positioned.
True side impact protection offers a head restraint creating an extra layer of energy absorbing EPP foam, keeping the head, neck and spine in true or aligned, and deep side walls lined with EPP foam to distribute crash forces
Tangle free, five point harness distributes crash forces across the strongest parts of the body and provides a secure fit
Click and safe snug harness indicator is an audible aid that provides extra assurance when the harness is within range of appropriate snugness
February 2014 LATCH Guidelines
---
Britax now advises that the LATCH lower tethers should only be used on this model until the child weighs more than 40 lbs. You can still continue to use the seat until the child weighs 65 lbs, but only if you re-install the seat using the adult seat belt instead. You should still use the top tethers as they are not affected by the law change.
Read more about this law change here.
Peace of Mind
---
Britax car seats are comfortable and packed with safety features – the Pavilion G4 is no exception. If you are unsure about your ability to consistently secure your child within the harness (especially when you've had no sleep for 6 months!) then the added Click & Safe feature may well give you some much needed extra reassurance.
Value for Money
---
The Britax Pavilion G4 costs in the region of $270.
This makes it about $15-20 more expensive than the Boulevard G4 and about $40-50 more expensive than the Marathon G4.
Personally, I would stick with the Boulevard for the reasons explained above, but if you are a first time parent the "Click & Go" feature will probably  be worth paying the extra cash for.
If you want to compare the Pavilion with the top of the range Britax Advocate G4, click here. 
Where to Buy the Britax Pavilion G4
---
The Britax Pavilion G4 is no longer available to buy new.
Find Britax ClickTight Seats here.
New Britax ClickTight Convertible Car Seats
---
Britax released a brand new range of convertible car seats in Autumn 2014, featuring their revolutionary "ClickTight" belt-installation system.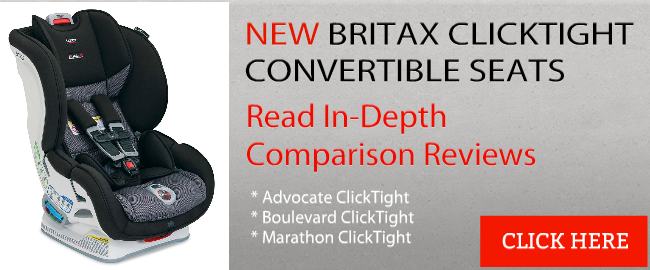 Safety Information
---
After purchasing any child car seat, you should always read the User Manual thoroughly before using it. It is also advisable to visit your local Fire Department or NHTSA Child Car Seat Inspection Centre to ensure that the seat is definitely suitable for your child's specific requirements and that you have installed it correctly. These services are usually provided free of charge.
You can find your nearest NHTSA Centre here.
Further Information
---
Click here if you remain undecided and want to read some more User Reviews.
If you have any feedback or questions about my Britax Pavilion G4 Review, please feel free to leave a comment below or send an email to kristian@kidsafetyfirst.com