List Price: $289
Weight Range: 5 to 65 lbs (RF to 40 lbs)
The Good – ISOFIX Base with SafeCell technology; Integrated Steel Bars; HUGS Chest Pads; Standard Side Impact Protection; No re-thread harness system.
The Bad – No SICT; No Hugs with SafeCell Technology.
The Bottom Line – The Britax Marathon G4 is an excellent affordable convertible car seat. It comes fitted with excellent safety features and is cheaper than the other Britax convertible seats. Overall, It is an excellent seat for those who cannot quite afford the Boulevard or the Advocate. It is a comfortable seat that is easy to install and adjust.
Note: There is a newer Britax Marathon seat available called the Marathon ClickTight.
Read my In-depth review of the Marathon ClickTight here.
Britax Marathon G4 – Overview
---
This is my fully independent and objective Britax Marathon G4 Review.
The Marathon G4 is suitable for use between 5 and 65 lbs. It can be used rear facing up to 40 lbs.
Britax has an excellent reputation in the world of child car seats. They continue to manufacture safe, comfortable and easy to use seats. The Britax Marathon G4 is no exception. This seat is fitted to a base that is installed in the car using either the adult seat belt straps or the lower LATCH connectors.
Britax certainly seem to have given a lot of thought to the little extra details that can make a seat more comfortable for a small child – like the shoulder pads and head rest. The shoulder rest is nicely padded and they have achieved a good amount of restraint without causing discomfort to the child in the process.
The EZ-Buckle system is a great feature. Without it you would be forever reaching under your child's bottom to try to pull the buckle to the front so that you can fasten the shoulder straps into it. Not only can this lead to your baby getting pinched and scratched in the process as you struggle to do this quickly as the wind and rain falls down on you, but baby being sat down on top of the metal buckle unit can be uncomfortable in itself.
Key Features
---
Suitable for children weighing between 5 – 65 lbs (Belt-fitted only once child weighs 40 lbs or more)
Base with safecell technology features safecells designed to compress in a crash, significantly lowering the center of gravity and counteracting the forward rotation of the child seat which normally propels the child toward the front seat
Harness ultra guard system (HUGS) provides resistance to forward movement in the event of a crash
Side impact protection comprised of deep side walls lined with energy absorbing EPP foam distributes crash forces, shields from vehicle intrusion, and contains the head, neck and body
Tangle free, five point harness distributes crash forces across the strongest parts of the body and provides a secure fit
Premium lower latch connectors for a quick and simple installation featuring a push button for easy release
The Britax Side Impact Protection system is explained in this video:
---
Peace of Mind
---
The Britax Marathon G4 is one of the most popular car seats in the US. Parents that use this seat praise its comfort and ease of adjustment once installed and, since ease of use and installation has a big impact upon safety, this makes it a very safe seat.
Value for Money
---
It might not be the cheapest car seat on the market, but it has a nice plush look to it and I have not heard any complaints from parents in relation to its price point.
The available color schemes are pretty nice and clean looking.
It is cheaper than the Britax Boulevard G4.
February 2014 LATCH Guidelines
---
Britax now advises that the LATCH lower tethers should only be used on this model until the child weighs more than 40 lbs. You can still continue to use the seat until the child weighs 65 lbs, but only if you re-install the seat using the adult seat belt instead. You should still use the top tethers as they are not affected by the law change.
Read more about this law change here.
Watch the Britax Marathon G4 Installation video below:

---
Where to Buy the Britax Marathon G4
---
Buy the Britax Marathon G4 here.
Find the Marathon ClickTight Version
New Britax ClickTight Convertible Car Seats
---
Britax released a brand new range of convertible car seats in Autumn 2014, featuring their revolutionary "ClickTight" belt-installation system.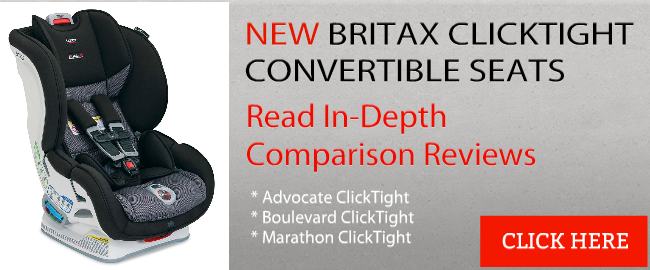 Safety Information
---
After purchasing any child car seat, you should always read the User Manual thoroughly before using it. It is also advisable to visit your local Fire Department or NHTSA Child Car Seat Inspection Centre to ensure that the seat is definitely suitable for your child's specific requirements and that you have installed it correctly. These services are usually provided free of charge.
You can find your nearest NHTSA Centre here.
Further Information
---
If you have any feedback or questions about my Britax Marathon G4 Review, please feel free to leave a comment below or send an email to kristian@kidsafetyfirst.com