Which types of baby gate are safe?
---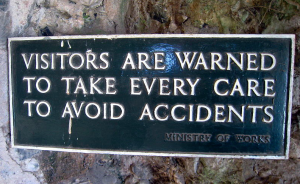 Choosing a baby gate for the bottom of your staircase is quite easy in the sense that you can pretty much choose any type that you like – provided of course that it fits in the gap. Choosing a top of stairs baby gate is not so simple.
Anyone that has read my previous posts on the subject of baby gates will know that I like to rant on about the dangers of pressure-fitted gates at the top of stairs. But, this is not me being overcautious and it is certainly not due to the suggested "Health and Safety gone mad" culture that you might read about in certain UK newspapers.
It is VERY DANGEROUS to install pressure-fitted baby gates at the top of your stairs because they have a metal bar that runs along the bottom and it does not open with the door – this is a tripping hazard.
As a personal injury lawyer, I spend a large part of each working day reading about accidents – many of these accidents involve people tripping over hazards. Now, most of these people are not unusually stupid, clumsy or unobservant – they are just regular folk who either suffered a momentary lapse of concentration or have been the victim of someone else's foolish actions in leaving things laying around on steps or failing to clear away spillages (sometimes a combination of both).
Happily, most people who trip over hazards positioned at ground level suffer only minor injuries – very often sprains and minor fractures to limbs. However, if you trip over the bottom of a pressure-fitted stair gate and tumble down the stairs, you are at risk of suffering very serious injury (if not death). Even worse, if you happen to be carrying your baby at the same time, the likely consequences don't bear thinking about!
You might think that you are a very careful and observant person who would never do something as foolish as trip over a top of stairs baby gate. But:
When you are a sleep-deprived parent your mental functioning will be greatly reduced (mine certainly was);
Almost everyone thinks that they are careful and observant yet these tripping accidents continue to occur very frequently.
Since there is a simple way to remove the risk completely, why not just fit screw-fitted gates instead!?
My Advice: The only type of baby gate that you should ever install at the top of your stairs is a screw-fitted one.
Click here if you have an unusually wide gap at the top of your stairs. 
Click here if you have an unusually narrow gap at the top of your stairs.
Click here if you would like to read about retractable baby gates that can accommodate all sized gaps.
The Best Top of Stairs Baby Gates
---
(1) BabyDan Multidan Extending Wooden Safety Gate (UK & USA)
When my twins were younger I had these installed at the top and bottom of our staircase. Although the opening and closing mechanism isn't the easiest the operate, they are excellent value for money. The plain classic wooden appearance also matched our decor and furniture better than the white metal alternatives.
They will fit gaps measuring between 60 – 102 cm.
I am not going to review them in any greater detail here since I have already done so here.
(2) Lindam Extending Metal Safety Gate (UK)
If you are looking for a white metal gate instead of a wooden finish, this might be a good bet. Functionally, it is very similar to the BabyDan Wooden gate.
It can be used in gaps measuring between 63.5 and 102 cm and can open in both directions. These gates are obviously more difficult to install that pressure-fitted gates, but they shouldn't prove too difficult for those with basic DIY skills. Lindam provide you with a paper template to help you mark the walls at the right height prior to attaching the mounting brackets.
The Key Features are:
Extra wide walk through section with no step over bar
Two way opening for maximum flexibility and easy one handed opening
Extends to fit openings from 63.5cm to 102cm
Easy to install, Screw fix directly to the wall.
Ships in Certified Frustration-Free Packaging
There is also a video on the BabySecurity website to show you how to use this gate.
(3) Evenflo Top of Stair Plus Gate (USA)
This gate comes in an attractive light wood colour and is suitable for gaps measuring between 30 and 48 inches. It has 2 swing settings that allows you to switch between "opening both ways" and "just opening one way". This is a useful safety feature if you do not want the gate to open out towards the stairs.
The Key Features are:
32″ tall
Expands from 30″ to 48″ wide
Hardware mounted
One hand opening mechanism
Removable swing control
Click here for more stair gate information and product reviews.
Further Information
---
If you have any feedback or questions about my "Top of Stairs Baby Gate" post, please feel free to leave a comment below or send an email to kristian@kidsafetyfirst.com