Another Milestone Reached!
---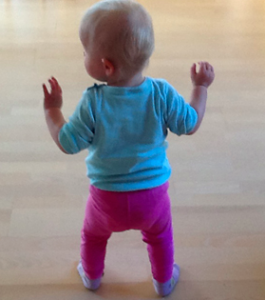 An Extra Wide Baby Gate is the last thing on your mind as you watch your baby rise to their feet and take their first steps in the world.
Your baby has just started to move around independently – its a truly wonderful moment for you and your family to share! Get your cameras and video recorders out and capture these precious moments forever.
Now that you've calmed down a little and run out of space on your camera's memory card, its time to re-evaluate your home. Whilst it may have been perfectly safe for a stationary baby, what about a moving baby? Whether your baby has just started to crawl or walk (or somewhere between the 2), a whole new set of safety issues have just entered your world.
One of the most important things that you will have to consider is whether to install baby gates at the top and bottom of your staircase(s). Obviously, once you have decided to buy some stair gates, you will then have to choose the most suitable ones for your home (and budget). Of course, whilst staircases are the most obvious place to install baby gates, they can also be used in doorways to restrict your baby's movement – it all depends upon the specific configuration of your home.
For those of you with standard width staircases, this is going to be relatively easy – you will have a huge selection of safety gates to choose from.
Read about safety gates in general here.
However, if your staircase is unusually narrow or wide the process of choosing gates can be more difficult.
I have already recommended some safety gates for those of you with narrow staircases here.
Fortunately, there are a few companies that have recognised the problem of non-standard staircases and have manufactured some very good extra wide baby gates. In the interests of keeping this post to a sensible length, I will not cover the very large safety gates that can be used to section off large rooms and hallways – perhaps a separate post in the future? I will, instead concentrate on those designed to be used on extra wide staircases and doorways.
The Best Extra Wide Baby Gates
---
(1) Dreambaby Safety Gates (with Extensions)
Dreambaby manufactures a variety of safety gates that can be extended to fit extra wide openings. They also manufacture a range of extra tall gates.
The key features are:
Door swings closed and locks automatically
Pressure mounted with the option of hardware mounting
Made of Steel
75 cm (29.5″) tall
Opens 71 – 82cm (28 – 32″), With optional extensions, opens to max 282cm (111″)
So, the basic gate is wider than normal and may fit may gaps that standard gate won't. However, those of you requiring extra width will need to buy the extensions to go with the basic gate.
(2) BabyDan Multidan Extending Wooden Safety Gate
This is a single extendable unit designed to fit gaps of between 60 – 102 cm.
I installed these gates at the top and bottom of our stairs and they were excellent. They are screw-fitted and, therefore, perfectly safe for use at the top of staircases. The only problem that I had was an over-enthusistic grandparent who decided to pull it off the wall rather than ask how to use the latch!
The key features are:
Fits openings from 60 to 102 cm wide; 73 cm in height
Features wide walk-through section and a no-trip bar
Quick-release fittings for removal when not required
Includes stop pins for mounting at the top of stairs
Two-way one-handed opening and double locking
If you buy any of these gates, just make sure you train the grandparents before they wreck them!
In fairness, they are not the easiest latches to use if you are unfamiliar with them but the upside is that they are completely toddler-proof.
(3) BabyDan Flexi Fit Configure Safety Gate
For those of you requiring more configuration options, this could be a very good option.
It comes with 3 panels and the joint between each can be adjusted in 10-degree increments.
The key features are:
Non-toxic wipe finish
Made up of three interlocking 60 cm sections; 75 cm in height
Gate and two panels adjust in 10-degree increments
Quick-release fittings for removal when not required
Features rounded corners for maximum protection
Two-way one-handed opening and locking
(4) Supergate Deluxe Gate (US Only)
This gate is not readily available in the UK, but seems to be a very popular choice in the US.
On of the best features is that it has a "stay open" setting that is very convenient when you want to be able to pass through it multiple times without having to open and shut the gate.
The key features are:
Adjusts to fit openings 38.3 to 72 inches wide and is 30 inches high
Ideal for extra-wide openings such as between rooms or the bottom of stairs
Heavy-duty metal construction in a matte bronze finish will compliment any home décor
Arched gate is an extra-wide 25.5 inches
Entire barrier swings open on both sides with child-proof safety latch on both ends
NB: Amazon claims that the maximum width is 72 inches – in fact it is 71.3 inches.
A Safety Warning
---
Some of the recommended products on this page are pressure fitted stair gates.
This means that they have a metal bar at the bottom that does not swing open with the door. This presents a tripping hazard and, whilst they are perfect for the bottom of staircases, they SHOULD NEVER BE FITTED AT THE TOP OF THE STAIRCASE!
Conclusions
---
Please don't despair if your doorways and staircases are wide than normal. There are a number of great "extra wide baby gates" for you to choose from.
If these stair gates are not suitable for your requirements, please click here for reviews of other stair safety products.
Further Information
---
If you have any feedback or questions about my "Extra Wide Baby Gate" post, please feel free to leave a comment below or send an email to kristian@kidsafetyfirst.com