Bicycle Helmets, but not Scooter Helmets?
---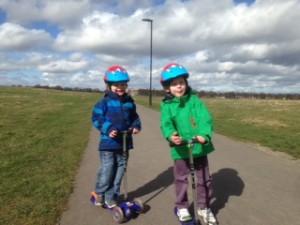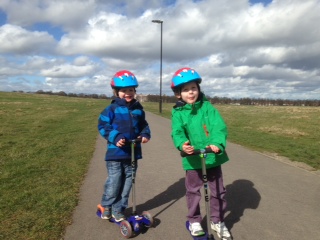 I think it's fair to say that most parents agree that kids should wear bicycle helmets at all times, but opinion appears to be much more divided on the subject of whether or not kids should wear scooter helmets. I rarely see kids on bicycles without safety helmets, but kids on scooters without safety helmets is something that I see quite often.
So, should kids wear scooter helmets or not?
I should point out that I am specifically referring to push scooters, but the points discussed below remain at least as relevant to the use of electric scooters too.
Why My Kids Always Wear Scooter Helmets
---
Anyone that has read my previous posts about kids scooters, adult scooters and kids scooter helmets will know that I have held pretty strongly views on this subject for a long time. I have never and would never allow my children to use a scooter without wearing  proper safety helmet and, for the reasons set out below, I would advise you to adopt the same stance with your own children.
My reasons for insisting that my own children wear scooter helmets at all times used to be based solely upon my own assessment of the theoretical risks of them suffering head injuries whilst out scooting, but my opinion has recently been further strengthened by an incident involving one of my 5 year old twin boys (4 at the time) during a recent scooter outing.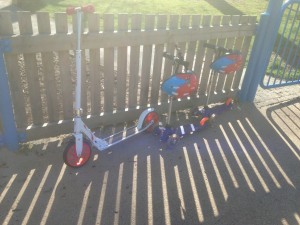 (1) The Theoretical Risks
I can't see any logical reason to draw a distinction between bicycles and scooters when it comes to safety helmets. My twin boys scoot much faster than they can ride a bicycle and they fall off frequently. Their accident rate probably isn't helped by the fact, as twins, they love to race each other and their jostling for position often ends up with one or both of them hitting the ground hard. However, they also have scooter accidents when they are alone so I would still insist on safety helmets even if there weren't 2 of them.
Another thing to consider is that kids scoot on the same pavements / sidewalks / paths as they cycle. When they fall off, the ground surface has no idea whether they fell from a bicycle or a scooter and there is no good reason why the head injuries resulting from striking the ground should be any less serious after a scooter accident than a bicycle accident.
I have also noticed that kids tend to have far more scooter accidents than bicycle accidents. My twin boys have at least 1 accident between them on each of their scooter outings – they have never had bicycle accident, though I should point out that they still have stabilisers fitted and much prefer to scoot.
But, apart from the transition period between stabilisers and 2-wheeled bicycles, your child is probably far less likely to fall off their bike than fall off their scooter. One of the problems with scooters being used on pavements / sidewalks is that the wheels are quite small and they often get trapped in the gaps between paving slabs or caught on raised edges / holes etc.
When a front scooter wheel does get trapped or blocked, there is only ever going to be 1 outcome and this involves your child ending up on the ground. Yes, they usually escape with no more than a few cuts, grazes, bruises on their knees, hands and elbows, but an unlucky few children suffer much more serious head injuries each year.
Even though the risk of your child suffering a serious head injury is low, it is a risk that can be almost completely eliminated by a scooter helmet and I can't think of a single reason why wearing a helmet would cause any problems to your child or prevent them from enjoying themselves. My boys have certainly never complained about having to wear one.
(2) My Son's Scooter Somersault Incident
I have already mentioned the dangers posed to scooter riders by imperfect pavements / sidewalks and it was a relatively small gap between 2 paving slabs on the street that I live that cause the incident which has once and for all confirmed to me that kids should always wear scooter helmets.
I had been out for a scooter adventure with my boys and we were about 50 metres from our front door when one of my son's front wheels got trapped in the gap between 2 paving slabs, when he was travelling at about 10mph. I was immediately behind him and so had a perfect view of what happened next.
He didn't just fall onto his front as he had done numerous times before. Instead,  the trapping of the front wheel caused him to do what I can only describe as a "diagonal somersault". It's hard to explain in words exactly how it happened, but the important part of the story is that the very first thing to hit the ground was the back of his head – it made a sickening thud and even though I knew that he was wearing a helmet I was very concerned.
I know that the back of a child's head is the weakest part – the forehead can usually take a fair old whack before any damage is caused, but not the back part of the head.
All sorts of horrible thoughts went through my mind as I rushed to check him over, but I was delighted (and amazed) to discover that his only injuries were a bruised bottom and dented pride, but if he hadn't been wearing his fireman sam safety helmet that had cost me no more than about £10 ($15), I dread to think what damage could have been caused to his head.
His fireman sam helmet (now replaced with a super-duper Pirate Micro Helmet) has a small dent and a scuff mark at the back of it as a reminder of just how lucky my son was to escape without serious injury.
You can read more about my son's new Pirate Micro Scooter Helmet and see the other available styles here.
If you want to learn more about child scooter helmets, you can read more about what I consider to be the best kids scooter helmets here.
Find my favorite toddler helmet here.
Should Your Child Wear a Scooter Helmet?
---
Yes, absolutely – no question.
What Are Your Views / Experiences?
---
I always love to receive questions and feedback about my posts. If you have any personal views or experiences on the issue of kids whether or not kids should wear scooter helmets, please leave a comment in the box below or send an email to kristian@kidsafetyfirst.com