You're Never Too Old for an Adult Push Scooter
---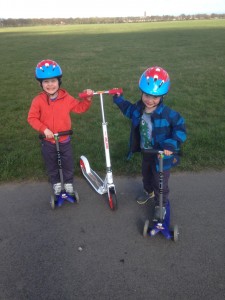 Despite the fact that I am rapidly approaching 40 years of age, I spent this afternoon whizzing around the neighbourhood like a little kid on an adult push scooter! It was great fun, but how did I get away with it at my age?
Fortunately, I have 3 kids under the age of 5 that absolutely love their scooters and so I had the perfect excuse to buy myself an adult push scooter and join in the fun. Now, there is no law against adults using push scooters on their own and it's not advisable to have children just so that you can continue to use toys into old age. In fact, I know that many people use push scooters to commute to work and some just use them to get some exercise, but it certainly helps to take your kids with you on scooter trips if you want to avoid being stared at as if you had just emerged from ET's spacecraft!
So, today I went out on a scooter adventure (as I often do) with my 4 year old twins boys and we had a wonderful time. Fortunately for them, there is a network of paths near our house that meanders through some picturesque cow-filled fields and ends up at a play park. What more could they want? For them it is the perfect way to spend a couple of hours on a warm(ish) April afternoon.
What are the Advantages of an Adult Push Scooter?
---
My decision to buy an adult push scooter was not made solely because I wanted to re-live my childhood or get a little exercise, there are some real practical benefits if you want to let your pre-teen kids scoot freely around the neighbourhood without worrying about them having a serious mishap.
There is a big difference between the scooting capabilities of a 2 year old and a 4 year old. When I take my 2 year old daughter around the block on her Mini Micro Scooter, I can simply walk by the side of her knowing that she is unlikely to outpace me. However, once your child gets to about 3 they will probably develop the ability to scoot much more freely and you will not be able to keep up with them at walking pace.
So, what are the other options?
Cycling – you can certainly keep up with your kids on a bicycle, but it all falls apart when one (or both) of your children decide that they no longer have the energy to scoot anymore or carry their own scooter. Carrying 3 scooters whilst walking is difficult but possible. Imagine having to do this whilst riding or pushing a bicycle! It is also very difficult to react to potentially dangerous situations when you are on a bicycle as opposed to being able to simply jump off a push scooter.
Jogging – you could do this I suppose, but I'm not much of a jogger and it just seems so much less fun that getting yourself a scooter.
Walking – I have already explained that you will not be able to keep up with you children once they reach about 3 years of age. So, in order to keep them safe, you will either have to insist that they scoot at walking pace (that's no fun and will undoubtedly lead to tantrums) or alternatively you will have to repeatedly allow them to scoot off into the distance and then scoot back to you. This might work for you, but there are some fairly busy roads between our house and the start of the "scooter path" and I would not be happy to allow my 4 year olds to scoot off into the distance without me in pretty close proximity so that I could take action if necessary to keep them safe. Although they have become technically proficient scooters, they still make the sort of errors of judgment that you would expect of kids their age. Being twins they also love to compete with each other and the risk of one of them getting bumped into the road by the other is always a real possibility.
So, for me, getting my own adult push scooter was by far the best practical option as well as being great fun for me. I can scoot next to them and keep an eye on things whilst also gently reminding them of the need to stop at road junctions.
It's also a great bonding activity when you are able to do the same thing as them – they see you as part of their little scooter gang rather than just a grown up tagging along.
Which Adult Push Scooters are the Best?
---
Unless you think that you would like to try to show off you your kids by performing some sort of extreme scooter tricks and stunts (not to be advised at my age), you are well advised to buy a scooter with large wheels, rather than the micro scooters that kids and teenagers use. The large wheels mean that they require less effort and you get a smoother ride.
Razor A5 Lux Scooter
Razor are probably considered to be the world's No.1 scooter company. They make fantastic push scooters and electric scooters for kids and adults alike.
The Razor A5 Lux Scooter is the perfect adult push scooter in my opinion. Although I ride around on a cheap imitation of the Razor A5, I have had a go on one and they are fantastic. They are solidly built to last, the ride is the smoothest I have ever experienced and they are about $200 cheaper than the prestige Zootr scooters and about $140 cheaper than a Go-Ped Scooter.
I am not going to give you a detailed examination of the relative merits of these 3 scooters since for the casual user like myself, it is very hard to justify paying more than $200 for a Zootr or Go-Ped.
Buy the Razor A5 Lux Scooter here – it has everything that you will need in a scooter – it's smooth, it's easy to use, it has a brake and it won't fall apart after a few months' use. It also has by far the best folding mechanism of the 3 scooters mentioned above so that it can be easily stored or carried.
My Verdict
---
Get yourself an adult push scooter – you won't regret it.
Unless you have money to burn, buy a Razor A5 Lux instead of a Zootr or a Go-Ped.
What Do You Think About Adult Push Scooters?
---
I would love to hear from you if you have any questions or opinions to share on the subject of adult push scooters. Just leave a comment in the box below or send an email to kristian@kidsafetyfirst.com