List Price: $289
Weight Range: 5 to 65 lbs
The Good – ISOFIX Base with SafeCell technology; Integrated Steel Bars; HUGS Chest Pads; Standard Side Impact Protection; No re-thread harness system.
The Bad – Despite lacking some of the extra features of the new Marathon G4, it is no cheaper. It lacks the G4's infant insert and updated HUGS system.
The Bottom Line – The Britax Marathon 70-G3 is a very good convertible car seat. However, it has now been replaced by the Marathon G4.
READ ABOUT THE BRITAX CLICKTIGHT SEATS HERE
Britax Marathon 70-G3 – Overview
---
This is my fully independent and objective Britax Marathon 70-G3 Review.
Britax are one of the most popular child car seat manufacturers in the world. The continue to manufacture high quality seats that are safe, comfortable and  easy to use.
The Britax Marathon 70-G3 comes in a variety of funky colour schemes. It comes with an abundance of padding and lots of adjustment settings to ensure a tight, yet comfortable, fit for your child.
The Versa Tether on the new Marathon 70-G3 is energy absorbing and works to reduce forward movement and rotation in a crash, which is reassuring.
Another nice feature of this and other Britax seats is the EZ-Buckle system. Basically, this system can be used to hold the buckle in a forwards position when you are seating your child, thus preventing them from getting hurt as a result of sitting onto the hard buckle. It also means that you don't have to fish around under their bottom trying to find the buckle that they have just sat on. This might sound like a small matter, but I can promise you that it is not – I have spent many frustrating moments frantically playing "hunt the buckle" whilst getting wet and cold in the rain. Its not a fun and neither is starting a journey with a child who is crying as a result of sitting on the seat buckle.
Key Features
---
Premium LATCH tether system fitted
Suitable for children weighing between 5 – 70 lbs (Must use Belt-fitting when child over 46 lbs)
Base with safecell technology designed to compress in a crash, significantly lowering the center of gravity and counteracting the forward rotation of the child seat which normally propels the child toward the front seat
Integrated steel bars strengthen the connection to the vehicle and reduce forward flexing of the child seat during a crash
Energy absorbing versa-tether features a staged-release tether webbing to slow the forward movement
HUGS- Harness Ultra Guard System chest pads provides resistance to forward movement in the event of a crash
Side impact protection comprised of deep side walls lined with energy-absorbing EPP foam distributes crash forces, shields from vehicle intrusion, and contains the head, neck and body
Peace of Mind
---
Like most Britax car seats, the Marathon 70-G3 scores very highly in safety tests. It is well padded and comes with a side impact protection system that exceeds the minimum safety requirements.
Value for Money
---
The price of the Britax Marathon 70-3G fluctuates and you will need to click the link below to check the current price.
THIS SEAT HAS NOW BEEN DISCONTINUED
FIND THE CLICKTIGHT VERSION HERE.
February 2014 LATCH Guidelines
---
Britax now advises that the LATCH lower tethers should only be used on this model until the child weighs more than 46 lbs. You can still continue to use the seat until the child weighs 70 lbs, but only if you re-install the seat using the adult seat belt instead. You should still use the top tethers as they are not affected by the law change.
Since this car seat weighs only 19 lbs, you can install it using the premium LATCH tethers for longer than many other car seats. For example the Britax Marathon G4 must be belt-fitted when the child weighs more than 40 lbs.
Read more about this law change here.
Where to Buy the Britax Marathon 70-G3
---
Click Here to Check Price at Amazon
New Britax ClickTight Convertible Car Seats
---
Britax released a brand new range of convertible car seats in Autumn 2014, featuring their revolutionary "ClickTight" belt-installation system.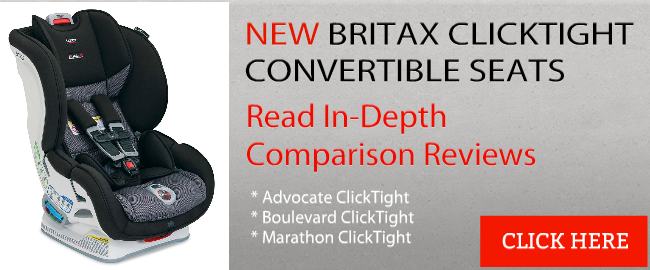 Safety Information
---
After purchasing any child car seat, you should always read the User Manual thoroughly before using it. It is also advisable to visit your local Fire Department or NHTSA Child Car Seat Inspection Centre to ensure that the seat is definitely suitable for your child's specific requirements and that you have installed it correctly. These services are usually provided free of charge.
You can find your nearest NHTSA Centre here.
Further Information
---
You can read my "Convertible Car Seat Reviews" post here to compare my 5 best seats.
If you have any feedback or questions about my Britax Marathon 70-G3 Review, please feel free to leave a comment below or send an email to kristian@kidsafetyfirst.com