What Do I Mean by Cheap Infant Car Seat?
---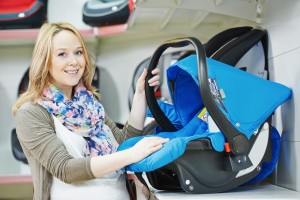 In order to be considered as a candidate for inclusion in my list of the "best cheap infant car seats 2014", the seat must cost less than $150 (including the base). Many premium infant car seats cost more than $200 and so I think that the $150 ceiling is a reasonable one to use.
If your budget can't quite stretch to these figures, you can read my reviews of 2 infant car seats that cost under $100 here.
The aim of this post is to identify "good" cheap seats rather than the cheapest seats irrespective of they quality. I am not prepared to recommend a cheap seat for your child to use unless I am satisfied that it has all of the necessary comfort and safety features. I wouldn't expect my child to use an inferior infant car seat and so why should you.
I also won't be recommending any Graco Infant car seats until the dust settles on the recent buckle recall problems that they have encountered.
Whilst you will have to accept that you are not going to be able to get all of the "bells and whistles" of the most expensive infant car seats, there are number of excellent seats available on the US market for under $150.
The 3 Best Cheap Infant Car Seats
---
#1
Britax B-Safe
DISCONTINUED
The Britax B-Safe is my 1st choice infant car seat and I would actually prefer it over and above the more expensive premium car seats like the Chicco Keyfit 30 and the Maxi-Cosi Mico AP. At 16 lbs, it is one of the lighter options and it had all of the safety features that you would expect of a Britax product. All of my children currently use Britax car seats and I have nothing but good things to say about them.
The B-Safe comes with Side Impact Protection to provide your child with extra protection to their head and body in the event of a side-on collision. It is also very flexible due to the 4 harness heights and 2 buckle positions that can be adjusted as your child grows.
The base is supplied with the seat as a single unit. It is suitable for babies weighing between 4 – 30 lbs.
Click here to Read my Full Britax B-Safe Review (including Video Reviews)

#2
Evenflo Serenade
The Evenflo Serenade is the cheapest seat that I have reviewed within this post. At 20.4 lbs, it is heavier that the B-Safe, but will accommodate children weighing between 5 – 35 lbs.
It comes with Super LATCH and an easy to adjust no-rethread harness. The seat is very easy to install using the Super LATCH mechanism and it is a pretty nicely padded seat.
It is one of the better seats at this end of the market. Many parents love this seat, but I have read some user reviews that complain about the shoulder straps cutting into baby's neck and the weight of the seat being too heavy. I would definitely pay the extra $15 and get the Britax B-Safe.
Buy the Evenflo Serenade here.
#3

Safety 1st Onboard 35 Air
The Safety 1st Onboard 35 Air is suitable for babies weighing between 4 – 35 lbs.
At 20 lbs, it is quite a heavy seat and costs about the same as the Britax B-Safe. It comes with Air Protect Side Impact Protection
Although its maximum weight is higher than the B-Safe, most babies grow out of the height restrictions before the exceed the weight restrictions.
The main criticisms of this seat appear to relate to the flimsy sun canopy and its relatively heavy weight. Having said that, this seat gets some pretty good user reviews.
Buy the Safety 1st Onboard 35 here.
Read my reviews of 2 cheaper (under $100) Safety 1st Infant Car Seats here.
The Verdict
---
I would definitely choose the Britax B-Safe over the competition for the title of the best cheap infant car seat on the US market in 2014. All of my children currently use Britax car seats and they have an excellent reputation for making safe and comfortable products.
Britax B-Safe has been discontinued – Read about the newer B-Safe 35 here.
If you are still undecided, you can read my full Britax B-Safe Review here. There are some very helpful videos in my full review page too.
Do You Need More Help?
---
I know from personal experience that choosing the best car seat for your child can be a daunting and confusing process. If you need any further advice or assistance whatsoever, please feel free to contact me and I will do my very best to help.
If you have any other feedback about my "Best Cheap Infant Car Seats 2014" post, please just leave a comment in the box below or send an email to kristian@kidsafetyfirst.com