Who Needs Portable Baby Gates?
---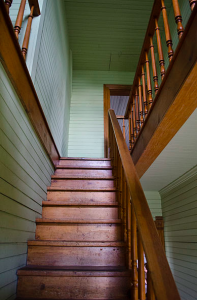 You have just installed baby gates throughout your home and are ready to relax in the knowledge that your child is not going to tumble down the stairs or escape into some other dangerous part of the house.
You then remember that you are visiting grandparents this coming weekend and the following week you are going to a cottage for a well-earned break. What should you do to safeguard your child at these places?
If you are lucky, the cottage will come with a set of suitable baby gates (always wise to check before arrival) and your parents will dig around in their garage and dust off some rather fetching 1970's-style safety gates!?
However, if you are not so lucky you will need to consider buying some portable baby gates instead – they are not much more expensive.
If you regularly visit grandparents, then they might want to consider installing non-portable gates.
Sadly, there aren't that many products on the market to meet the obvious need for portable bay gates, but I have found a couple of interesting options.
The Best Portable Baby Gates
---
(1) Lindam Flexiguard
Firstly, this is more of a barrier than a gate since it doesn't open once installed. Having said that most normal-sized adults ought to be able to step over it when it is in situ. It is very lightweight and comes with a useful storage case. It is not going to be a good option as a permanent safety gate in your main home – there are much more sturdy and fully-functional options available.
It's obviously pressure-fitted since you can't go around screwing holes into the walls of holiday cottages!
The key features are:
Quick release pressure fit handle simultaneously locks all 4 pressure points into place
Collapsible, twist and fold mechanism
Fits into carry case provided for convenient transportation
Adjusts to fit openings between 71cm and 92cm
Light weight metal and plastic frame
Overall, I think that this is a nice product at a sensible price. It would certainly provide me with some added peace of mind on holiday or at Grannie's house.
Having said that, I'm not sure that I would recommend using them at the top of the stairs if adults are going to need to get passed frequently or if your children are toddlers that like to climb! Whilst stepping over the gate might be quite easy at the bottom of the stairs or if positioned in a doorway, I certainly wouldn't trust myself to be able to do it safely at the top of the stairs after a glass of wine (or three).
(2) BabyDan Gate to Go
This is a similar gate to the Lindam Flexiguard. Again, it is pressure-fitted and acts more like a barrier than a gate.
The key features are:
Easily stored
Made from a fabric material
Fits a gaps 71 – 92 cm
Comes with a easy carry bag
I think I prefer the Lindam gate since it looks a little sturdier.
This is probably best kept for bottom of stairs or doorway usage rather than top of stairs. I wouldn't rely upon it to keep toddlers at bay either – I'm pretty sure that my 2 year old daughter would find a way passed it!
However, for very small children it would serve as a useful extra safety precaution and is certainly better than nothing.
Conclusions 
---
These portable baby gates are definitely worth considering if you want to be able to spend some of your holiday time relaxing instead of constantly hovering over your child when they go anywhere near the stairs. However, don't expect them to function as well as standard gates since they are only designed to be temporary barriers.
I would be reluctant to use them at the top of stairs but they are perfectly fine for the bottom of stairs or in doorways.
If you can persuade grandparents etc to invest in some proper safety gates, there are some more options listed here.
Another travel option is a retractable baby gate since they often come supplied with more than one set of fittings.
Further Information
---
If you have any feedback or questions about my "Portable Baby Gates" post, please feel free to leave a comment below or send an email to kristian@kidsafetyfirst.com