Joovy Baby Doll Booster Car Seats on my Facebook Feed!
---
<
At about 3pm today I was idly checking my Kid Safety First Facebook account when an image of a Joovy Baby Doll booster car seat appeared on my Feed. I would normally let these things pass with just a casual few seconds thought, but for some reason on this occasion I decided to take a proper look at this toy – I can only think that I must have just been looking for distractions to keep me from actually doing any work!
Anyway, I have published lots of child car seat reviews on this website but, before today, I had never ever even considered the possibility of writing about car seats for dolls and stuffed toys!
When the picture of the Joovy Baby Doll Car Seat appeared on my Facebook Feed I initially dismissed it as just another toy that had been cleverly designed and marketed to extract the maximum amount of cash from unsuspecting parents.
However, after a couple of minutes of thinking about it I started to wonder whether or not car seats for dolls could in fact serve a more useful purpose than pure child entertainment? So, here are my thoughts on the subject.
Do These Seats Serve Any Useful Purpose?
---
Any toy that allows a child to pretend to be the "grown up" and look after a baby doll is always a big hit in my house, and there is no gender division either. My 5 year old twin boys are just as eager to engage in this type of doll play as my 3 year old daughter.
So, of course I can see that the Joovy Baby Doll Car Seat serves a useful purpose in that sense.
But, I actually think that it goes beyond that and is also useful as an educational device and a tool for those that might have difficulties with children trying to rebel against sitting in their own car seats.
On the whole, my own kids are pretty good when it comes to sitting nicely in their seats, but I do hear quite a few stories from other parents about their difficulties with kids that like to try to escape from their seats (by getting their arms through the harness or un-clicking the buckle) or just refusing to use them at the start of the journey.
Aside from the entertainment benefits of distracting a child with one of these toy car seats, it seems to me that parents could also use these toys to teach kids about the general importance of child car seat use and also to engage them in discussions about how they are installed and how they act to reduce injuries in the event of a collision.
The Joovy is Crash Tested & LATCH Fitted!
---
No, I'm serious!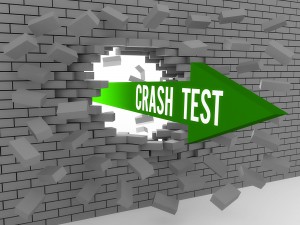 When I first saw the Joovy Booster Seat, I assumed that it was just a toy that sat beside your child's own car seat (probably not to be recommended) or a toy that was designed for use in the home.
In fact, when you read the product description, you immediately notice that this seat has actually been CRASH TESTED and can be installed in your vehicle using the LATCH connectors or seat belt – just like a regular child car seat.
Obviously, this isn't just a cool feature to wow your kids with, it also helps to give this toy car seat an even greater educational value.
The only problem that I can see with this product is finding space to install it. Since I already have 3 kids sitting side-by-side in the rear of my vehicle, there would not be any room left for dolly's car seat. But, for those that have space, I think that this is a great little fun and educational toy.
The Joovy Baby Doll Booster Seat's Features
---
The Joovy Baby Boll Booster seat comes with the following features:
Removable and Washable fabric cover
Installed using a seat belt or LATCH connectors
Real 5-point safety harness
5-point harness fully adjustable for height and width
Crash tested for passenger safety
The Color Options
---
The Joovy Baby Doll Booster Car Seat comes in 2 fabric colours: blue and pink:
Where to Buy the Joovy Baby Doll Booster Car Seat
---
Buy the Joovy Baby Doll Booster Car Seat here.
Leave a Comment
---
If you have anything to share on the subject of Joovy Baby Doll Booster Car Seats, please leave a comment in the box below.