The International Child Car Seat Scandal
---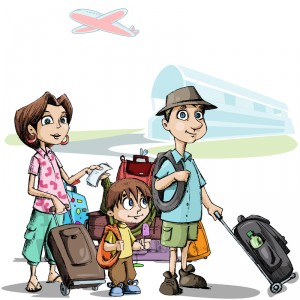 Hiring child car seats on holiday is a dangerous and expensive business that should be avoided at all costs! It is an international scandal that no-one seems to want to combat and which puts thousands of small children at risk of death or serious injury each year.
Whilst the Governments of most developed countries have been reasonably active in creating safety regulations around the use of child car seats, there doesn't seem to be any desire to inspect and enforce even the most basic standards when it comes to child car seats that are hired out by car hire companies.
My own personal experience is limited to Western Europe, but I have heard similar complaints from all around the world.
If anyone has had positive experiences of hiring child car seats, I would love to hear from you so that I can share the information on this website. Any international car hire company that took the decision to improve their child car seat services would, in my view, gain a huge amount of positive publicity and almost certainly become the car hire company of first call for most parents.
I haven't found any such car hire company yet, but please leave a comment in the box below if you have had better luck!
My Personal Experience of Hiring Car Seats
---
I once hired car seats for my twins boys when they were about 12 months old.
My wife and I had finally decided that we were able to manage a foreign holiday in the sun with our fairly new and demanding entourage, but the thought of having to take 2 car seats, 2 strollers and a mountain of other luggage with us to Spain was too intimidating to even consider.
We had naively assumed that car hire companies would be obligated to provide high quality child seats and that they would take this obligation seriously. Although the cost of hiring 2 infant seats for 2 weeks was going to be high, we thought that we had little other practical option and so just booked the seats.
When I arrived at the car hire desk, I expected to be informed that a couple of fairly new, clean and safe infant seats had already been installed into the hire car and that I just needed to load up the kids and drive off to enjoy our holiday.
However, the reality was very different!
Apparently, this was far too much to ask in return for the 200 Euros that we had paid (about $300!) for these seats.
Instead, we were handed 2 very old, dirty, damaged objects that they claimed were child car seats, but which looked more like buckets with straps. Of course, there were no bases in the hire car so they would have to be belt-fitted by us.
There was no model names on the car seats and I certainly couldn't identify them, but they were the only options available and so we struggled off to the airport car park to try to install them.
About 40 minutes later, I finally managed to work out how to fit them and loaded the kids into the car. There were no chest pads on the straps, but I achieved the best fit that I could in these impossible circumstances and drove like Miss Daisy to our accommodation.
That was the first and last time that I have hired child car seats whilst on holiday and, unless you have found a more responsible car hire company that supplies safe seats, I suggest that you avoid this option at all costs.
Have Hired Child Car Seats Improved in 2014?
---
Absolutely not!
I have recently returned from a holiday to France and, whilst we took all 3 child car seats with us, other parents in the queue ahead of us had decided to take their chances with the car hire companies.
Some of the conversations that I overheard between the car hire company staff and parents were alarming – infant seats being offered to 3 year olds!?
Here is one of the infant seats that I photographed whilst waiting in the queue: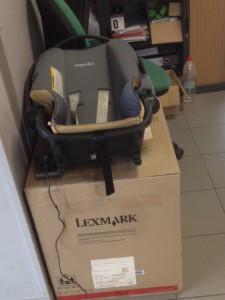 $12 per day to put your precious child in that thing!?
Brand new versions of the latest model of this seat cost about $60 to buy, yet they are charging more than that for a week's rental for this monstrosity – if that's not properly described as a scandal, I don't know what is!
The 7 Biggest Problems With Hired Child Car Seats
---
Price and general shabbiness are not the only problems with hired child car seats.
Here is my list of the 7 biggest problems with hire child car seats:
Expensive – $10+ per day
Often Damaged
Always Dirty / Shabby
Often Expired
No Idea if seat has been in an accident previously
No idea if the model has been recalled previously
No advice/assistance on fitting the seat(s)
The Alternatives to Hiring Child Car Seats
---
The most obvious alternative to hiring child car seats is to take your own on holiday with you.
Of course, this is easier said than done if you have lots of children requiring seats. But, if you plan for it, it can be achieved and you will have more money in your pocket and peace of mind as a reward for your efforts.
It is usually free to carry child car seats on flights and (unless you are able to use the seat onboard), you can either bubble wrap it or buy a car seat travel bag to protect it in the hold.
I have previously written a post about the best car seat travel bags here.
Share Your Opinion and Experiences of Hiring Child Car Seats
---
If you have had any positive or negative experiences of hiring child car seats whilst on holiday, please leave a comment in the box below.