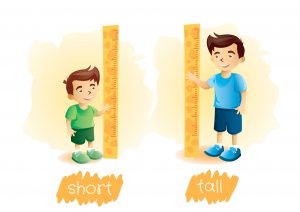 If you are reading this article, it is probably because you are the parent of a child that is taller than average and you are looking to buy them a harness to booster car seat.
There are a few excellent harness to booster car seats on the market today, but they don't all have the same height limits and so they won't all be equally suitable for a taller than average child.
The good news is that finding the best harness to booster seats for tall kids is pretty simple because there aren't actually many good 5-point harness to booster seats on the market to choose from in the first place, let alone models that are best suited for use by taller than average children.
Standard Height Limits for Harness to Booster Seats
Almost all modern harness to booster car seats have maximum child height limits of about 57 inches.
Whilst a 57 inch maximum height limit is perfectly adequate for average sized children, they are not so good for taller children.
Two of the most popular harness to booster car seats are the Diono Radian RXT and the Diono Rainier, but they both have maximum child height limits of 57 inches.
So, although the Diono Radian RXT and the Diono Rainier seats are both excellent options for small and average sized children, I would not recommend them to parents of taller kids.
Fortunately, there are a couple of 5-point harness booster seats that have added a massive 5 extra inches to their maximum child height limits, and this makes them the obvious best choice for tall children.
The even better news is that these 2 seats are not obscure models with very basic features, but are instead made by one of the most highly respected manufacturers of child car seats. They are very popular seats with parents and car seat safety technicians alike, and they have also received "Best Best" evaluations from the Insurance Institute for Highway Safety (IIHS).
Harness to Booster Car Seats with the Highest Limits
Mt recommended harness to booster car seats for tall kids are the Britax Pinnacle ClickTight and the Britax Frontier ClickTight, and they get excellent user reviews from parents.
Both of these seats have maximum child height limits of 62 inches. That's a whole 5 inches more than their main competitors. The maximum seated shoulder height is also very impressive at 23 inches.
Please note that your child must weigh at least 25 lbs and be 2 years old to use one of these seats.
Both seats come with the following features:
Tangle-Free, 5-Point Harness with 9 height positions
90 lb Weight Limit (Harness Mode)
120 lb Weight Limit (Booster Mode)
Integrated steel bars strengthen the connection to the vehicle and reduce forward flexing of the child seat during a crash
Easy-Access Belt Paths for simple installation when using the adult seat belt
Energy Absorbing Tether anchors the top of the car seat to the vehicle
Front-Adjust Recline
Comfort Foam provides an extra layer of padding to cushion your child
Quick-Adjust No Re-Thread for easy adjustments to the harness shoulder height and head restraint
Integrated Cup Holders and Storage
Easy Transition from Harness to Booster Mode without removing harness straps
Easy-Remove Cover allows easy cleaning without disassembling or uninstalling the car seat
Color-Coded Vehicle Belt Guides provide clear indication of the path and positioning of the vehicle seat belt for use in either harness or booster mode
Armrests provide a natural and comfortable place to rest arms
Two Buckle Positions for your growing child
Click Tight Installation
EZ-Buckle System and Harness Holders
Premium Lower LATCH Connectors included
Certified for Aircraft Travel in Harness Mode
1.

Child Height & Weight Limits in More Detail
In addition to having a maximum child height limit of 62 inches, there are some other height and weight limits that you need to be aware of and these limits depend upon whether you are using these seats in Harness Mode or Booster Mode.
Here are the important numbers …
Forwards-Facing in Harness Mode: 
25 – 90 lbs and 30 – 58 inches.
Forwards-Facing in Booster Mode: 
40 – 120 lbs and 45 – 62 inches.
2. What is the ClickTight Installation System?
Both seats come with Britax's unique ClickTight belt installation system that provides a foolproof way of installing the seat safely within your vehicle when you can't use LATCH anchors.
The ClickTight installation system involves a simple 3-stage process. You simply:
Open the ClickTight compartment
Feed the seat belt through the appropriate route
Close the compartment until you hear the "click"
Whilst the ClickTight installation mechanism does not make the car seat any safer, there is a very important indirect safety benefit for some parents when using the ClickTight system.
Installing any car seat using the vehicle's seat belt can be a worrying prospect for many parents and, as a result, many parents get it badly wrong. Research suggests that as many as 75% seats are installed incorrectly, and this is a serious safety concern.
Achieving a safe child seat installation is essential for the safety of your child, and any technology that makes this easier to achieve is a massive bonus.
Here is a short video about ClickTight Installation …

1.

Britax Pinnacle ClickTight
The Britax Pinnacle ClickTight seat is the top of the range model and comes fitted with pretty much every safety and convenience feature that Britax has to offer, including its unique "Side Impact Cushion Technology", which comprises the extra wide head wings that you can see on the image above.
Check Latest Price of the Pinnacle ClickTight
2.

Britax Frontier ClickTight
As I have already mentioned, the Britax Frontier ClickTight seat has all of the same features as the Pinnacle ClickTight seat apart from the extra large SICT head wings.
Check Latest Price of the Frontier ClickTight
Read User Reviews
Britax Harness to Booster Seats – Comparison Video
You will note that there is a 3rd Britax Harness to Booster seat, but that it has lower height and weight limits than both the Pinnacle and the Frontier. It also lacks the ClickTight belt installation system. Clearly, the Pioneer is not the best option for taller kids.
Britax Harness to Booster Seats – My Verdict
The Britax Pinnacle ClickTight and Britax Frontier ClickTight are both great harness to booster car seats.
They have excellent safety features and are the best harness to booster seats on the market by a long way in my opinion.
The only difference between them is that the Pinnacle model comes with the extra wide head wings to provide additional protection in the event of a side impact collision. The only down side to these reassuringly large head wings is that it makes the seat very wide and you might have difficulties fitting it in your vehicle if you need to be able to fit 3 in a row.
The Side Impact Cushion Technology (SICT) head wings on the Pinnacle seat mean that it is 22.5 inches across at its widest point. The Frontier seat is 3.5 inches narrower at 19 inches.
So, if you can fit it into your vehicle I would highly recommend the Britax Pinnacle ClickTight seat.
If you can't fit it into your vehicle, or don't want to pay the extra cash for the SICT head wings, then the Britax Frontier ClickTight seat is an excellent alternative.
Find Britax Harness to Booster Seats in Canada
Check Price of Britax Harness to Booster seats in Canada
Leave a Comment
If you have any questions to ask or comments to make about my best harness to booster seats for tall kids article, please feel free to leave a comment below.