The Different Types of Booster Car Seats
---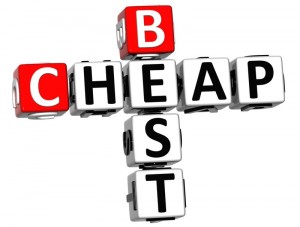 There are 2 obvious candidates for my "Best Cheap Booster Seats 2014" shortlist. They clearly stand out from the crowd and I have no hesitation in recommending them.
I am only going to consider US car seats in this post. If you are looking for a good UK booster car seat, you can read about some reasonably priced options here.
You should not be in any rush to transfer your child from a convertible seat to a booster seat. Most convertible car seats are designed to be used until your child's weight exceeds 65/70 lbs and you should ensure that they use these seats for as long as they remain within the weight/height limits.
The reason that you should not rush to transfer your child to a booster seat is that they do NOT come with a 5-point harness to secure your child. Instead, they use the standard vehicle seatbelt and this means that it can be a little more difficult to get a good secure fit.
Booster car seats come in backless and high-backed versions and one of the first choices that you will have to make is which of those 2 types of seat is most suitable for your child.
The Benefits of High-backed Booster Seats 
---
Personally, I would always advise you to use a high-backed booster seat for as long as your child can comfortably fit into one. They provide far more security and make it much easier to get a proper fit that the backless type. One of the problems with the backless booster seats is that they have absolutely no side impact protection and do not provide any mechanism for positioning the adult shoulder belt in the correct position. If your child is in the habit of slouching to the side or falling asleep during car journeys then a backless booster seat will not be a good choice, since there will be nothing to keep them upright and prevent them from effectively sliding out of the seatbelt.
The American Academy of Paediatrics advises that children measuring 4 feet 9 inches tall or less should ride in a belt-positioning high-backed booster seat.
On the other hand, high-backed booster seats have side impact protection and help to keep your child in a proper upright position. The best high-backed booster seats also come with a belt-positioning guide to ensure a good secure seatbelt fit and adjustable headrests.
So, if your child has only just reached the point where they need to transition to a booster seat, I highly recommend a high-backed seat. If they are a little older and possibly too large to use a high-backed seat comfortably, then I recommend the alternative backless model mentioned below.
If you have a bigger budget and want your child to be able to use a 5 point harness until their weight exceeds 90 lbs, you could consider the Britax Pinnacle 90 or Britax Frontier 90 Harness to Booster Seats.
The 2 Best Cheap Booster Seats
---
In my opinion, the 2 best cheap booster seats are all manufactured by Graco and cost well under $100.
Importantly, they have also both recently received a "Best Bet" score from the Insurance Institute for Highway Safety (IIHS). They carried out safety tests on most US booster seats and then published the results to help parents make more informed decisions.
So, my recommended booster car seats are not just cheap, but they have scored the highest possible rating in the IIHS safety tests.
The safety tests were very stringent and are explained in this video:

#1

Graco Affix 
Key Features:
Designed with the style and comfort features that kids love
Easily converts to backless booster for years of use
EPS, energy absorbing foam for effective impact energy management
Fully-adjustable headrest keeps your growing child secure
Open-loop belt guides help you correctly position your vehicle's seat belt
Integrated cup holder and hide-away storage compartment keeps your child's drinks and favorite things within arm's reach
Highback mode from 30 – 100 lbs. and 38 – 57 inches tall.
Backless mode from 40 – 100 lbs. and 40 – 57 inches tall.
The Graco Affix's key features are explained in this video:

Read my Full Review of the Graco Affix
Click Here to Check US Price of the Affix
Click Here to Check the Canadian Graco Booster Prices
#2

Graco TurboBooster
Key Features:
Helps safely transport your big kid from ages 4 -10, from 40 – 100 pounds and up to 57″ tall
Top rated by leading consumer magazines and publications
Rigorously crash tested to meet or exceed US safety standards and reassure safety-conscious parents
Deluxe seat cushion removes for machine washing
The Graco TurboBooster's key features are explained in this video.
Check US Price of the TurboBooster
Check Canadian Graco Booster Prices
Safety Information
---
After purchasing any child car seat, you should always read the User Manual thoroughly before using it. It is also advisable to visit your local Fire Department or NHTSA Child Car Seat Inspection Centre to ensure that the seat is definitely suitable for your child's specific requirements and that you have installed it correctly. These services are usually provided free of charge.
You can find your nearest NHTSA Centre here.
Do You Need More Help?
---
If you need any further advice or assistance whatsoever, please feel free to contact me and I will do my very best to help.
If you have any feedback about my "Best Cheap Booster Seats 2014" post, please feel free to leave a comment in the box below, or send an email to kristian@kidsafetyfirst.com