What Is a Baby Car Seat?
---
Before suggesting some worthy candidates for the "Best Baby Car Seats" Hall of Fame, I ought to specify what I mean when I say "Baby Car Seat".
I have deliberately used the word baby instead of infant because "infant car seats" are a specific type of seat that do not represent all of the options available to parents when they are deciding upon the first car seat for their baby. So, when I refer to baby car seats I include any seat that can be used from birth (say 5 lbs upwards).
Infant vs Convertible Car Seats
---
There are 2 categories of seat that can be used to carry newborn babies in the US:
Infant Car Seats
Convertible Car Seats
Infant car seats have carry handles, can be used from birth until about 30 lbs (or their height exceeds about 30-32 inches), they can be clicked in and out of a base that is left installed in your vehicle and possibly used with a stroller unit. You can also buy extra seat bases if you need to install the seat in more than one car.
Convertible car seats can be used from birth until about 65/70 lbs. They remain in your vehicle and can't be used as part of a "travel system". They can usually be used rear-facing until your child weighs 40lbs and forwards-facing after that. There are new Laws regarding the use of LATCH lower anchor points that you ought to be aware of if you buy a convertible car seat. These laws don't apply to Infant Car Seats.
Both types are safe for use with newborn babies and the decision between the 2 usually comes down to whether or not you need the added convenience of being able to transfer your child between your vehicle, stroller and home without removing them from the seat. Obviously, this extra convenience comes at a price since you will probably need to buy a convertible seat eventually anyway.
You can reduce the overall cost of buying an infant seat if you use it as part of a "travel system".
The NHTSA Safety Rating Myth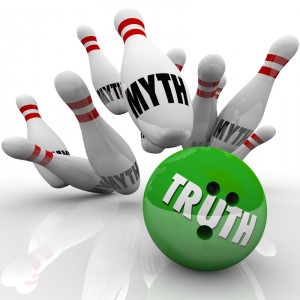 It would be great if there was an independent organisation that carried out comprehensive safety tests on child car seats and then ranked them in order of results. All child car seats that are sold in the US have passed the relevant minimum federal safety tests & met the strict crash performance standards, but for many parents this is not sufficient reassurance. Understandably, they often spend many hours on the internet trying to discover the "safety ratings" of different car seats. If you are one of those parents, I can tell you now that however thoroughly you search you will not find any.
The truth is that there are no such safety tests carried out in respect of US child car seats and anyone that says any different is either ignorant of the facts or deliberately trying to mislead you – don't listen to their bad advice.
More most common source cited by those claiming that they can tell you the "safety ratings" of child car seats is the National Highway Traffic Safety Administration (NHTSA).
The NHTSA carries out "Ease of Use" tests that are often misinterpreted as "safety ratings" despite the fact that they specifically warn against this on their website. The advice of the NHTSA is simply this:
"In order to increase the chances of choosing a safe seat for your child, you should ensure that it
is appropriate for your child's age, height and weight
fits in your vehicle correctly
is easy to use"
Research suggests that up to 75% of car seats are incorrectly installed and the is this far more likely to cause a danger to your child than choosing between the precise safety features of a particular seat over another similar one.
Once you have purchased a car seat for your child, you can take it to an NHTSA Child Car Seat Inspection Station for them to show you how to correctly install and use it. They will usually perform this check free of charge and you can find your nearest station here.
The Best Infant Car Seats
---
There are 3 infant car seats that stand out from the crowd in my opinion. They are all great seats and choosing between them will depend upon your particular circumstances.
#1 Britax B-Safe
DISCONTINUED!
This is the cheapest option of the 3 at about $144 (including the base).
It is suitable for babies weighing between 4 to 30 lbs and up to 32 inches in height.
The height limit is greater than most of its competitors, which means that it will last longer, but this does mean that it is larger and may not fit comfortably into small vehicles. If in doubt, check with the seat and/or car manufacturer.
If you need more detailed information, you can read my full Britax B-Safe Review here.
The Britax B-Safe 35 has replaced the B-Safe
Read my review of the newer Britax B-Safe 35 Seats here.
#2 Maxi Cosi Mico AP
This is the lightest infant car seat on the US Market. It is about 1/2 the weight of the others and it would be perfect for mothers that have delivered by C-Section, parents of twins and parents that would struggle to carry a heavier model.
The downside of it being so light is that the weight and height limits are very low, which means that you may have to replace it sooner than the others. It can be used for babies weighing between 5 to 22 lbs and up to 29 inches in height.

The Mico AP can be used with the very popular Quinny Buzz Stroller System.
Read my full Maxi Cosi Mico AP Review here.
#3 Chicco Keyfit 30
This is by far the heaviest of the 3 infant car seats at 21.2 lbs (compared with the Mico's 8 lbs!)
It can be used to carry babies weighing between 4 to 30 lbs and up to 30 inches in height.
It is very easy to install and use and fully deserves its reputation as one of the best infant car seats on the market. The only real downside is that it is very heavy and this will be a deal breaker for some parents.
It costs about $190 (including the base) and is available to buy at Amazon with Free Shipping and Returns.
The Keyfit 30 can be used with the Chicco Cortina Travel System (amongst others).
If you need more detailed information, you can read my full Chicco Keyfit 30 Review here.
The Best Convertible Car Seats 2014
---
There are many more seats to choose from in this category and I have previously written individual product reviews of the ones that I consider to be the best (check out the Car Seat Dropdown Menu at the top of the page). It is impossible to proclaim any one of the 3 seats listed below as "the best" since everyone's circumstances are different. What I can say is that I would be absolutely delighted to transport my baby around in any of these seats.
#1 Chicco Nextfit 65 & ZIP
This is a very stylish seat that has recently been improved by Chicco to deal with 2 complaints that had previously been made about the shoulder and crotch straps. They have now fixed these problems and made this into a great convertible car seat.
Read my Comparison Review of Nextfit 65 vs Nextfit Zip.
One of its best features is that it has 9 different recline positions to help ensure that your baby is comfortable. This also has the added benefit of helping to prolong rear-facing, which is considered more than 5 times safer than forwards-facing.
#2 Britax G4 Series
I absolutely love Britax car seats and all 3 of my children use them at the moment. They are neat, well built and packed with great safety features.
The top of the range model is the Advocate.
The G4 series of seats has now been replaced by the much improved Britax "ClickTight" seats, which have a unique foolproof belt-installation system.
Click on the banner below or use the site menu to find my reviews of the Britax ClickTight seats.
Check Prices of Britax Convertible Car Seats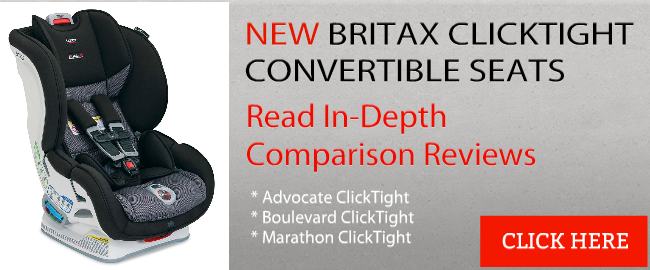 My Verdict
---
As I have already mentioned, I would be happy to own any of these car seats. However, if I had to choose between them I would probably go for the Britax B-Safe with the B-Agile Stroller, followed by the Britax Boulevard.
Safety Information
---
After purchasing any child car seat, you should always read the User Manual thoroughly before using it. It is also advisable to visit your local Fire Department or NHTSA Child Car Seat Inspection Centre to ensure that the seat is definitely suitable for your child's specific requirements and that you have installed it correctly. These services are usually provided free of charge.
You can find your nearest NHTSA Centre here.
Do You Need More Help?
---
If you need any further advice or assistance whatsoever, please feel free to contact me and I will do my very best to help.
If you have any other feedback about my "Best Baby Car Seat 2014" post, please just leave a comment in the box below or send an email to kristian@kidsafetyfirst.com