Baby Car Seats 
---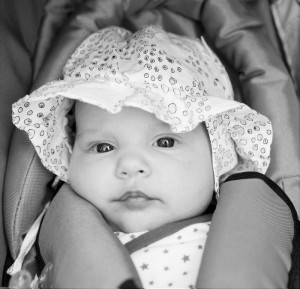 In the United States, there are 2 types of car seat that are considered suitable for use from birth:
(1) Infant car seats
These are specifically designed for babies and, whilst there is some variation between particular products, they generally can be used from birth to 9-12 months of age (30 lbs in weight). They are always installed in a rear-facing position to ensure maximum collision protection for your baby and can often be used as part of a complete "baby travel system" for added convenience and reduced overall cost.
The American Academy of Paediatrics (AAP) recommends that children remain in rear-facing seats until they are at least 2 years of age. A Rear-facing seating position is considered to be 5 times safer than a forwards-facing one.
They can be fitted using just the adult seat belt or with a base. Clearly, the most convenient option is the install the seat base into the car and just click the seat in and out of that base at the start and end of each journey.
All of my children have used infant car seats for the maximum permitted period before graduating to larger seats. I have no evidence to suggest that infant car seats are any more safe than convertible car seats for babies under 30 lbs, but to me they just seem to provide a better / snugger (is that actually a word!?) fit.
One other factor that I had to consider was the practicalities of carrying twin babies around. It's hard enough carrying one baby in and out of a car seat, without having to deal with the prospect of having to do it twice at the end of every journey. Infant car seats come with convenient carry-handles and they can be simply clicked in and out of the seat base without disturbing your baby's sleep and without having to do relay runs between the car and home!
One final word about carrying infant car seats … I know that lifting heavy objects can be a problem for some mothers, especially if you have recently undergone a caesarean section. Most infant car seats weigh about 15-16 lbs (without baby). However, there is one infant car seat that is about 1/2 that weight. The Maxi Cosi Mico is the lightest infant car seat on the market at just 8 lbs! This seat is well worth considering if weight is a serious issue for you. The only downside about this seat is that it can only be used for babies weighing up to 22 lbs.
Read my review of the Maxi Cosi Mico here.
The best 3 infant car seats and their weight / height limits are:
Britax B-Safe: 4 – 30 lbs (32 inches)
Maxi-Cosi Mico: 5 – 22 lbs (29 inches) 
Chicco Keyfit 30: 4 – 30 lbs (30 inches)
Click on the links above to read my reviews of these seats.
Best Infant Car Seats Review (USA)
(2) Convertible car seats
These are designed for use from birth to approximately 65 lbs in weight and can be used either rear or forwards facing.
Importantly, they can generally be used rear-facing until your child weighs more than 40 lbs – this means that the average child ought to be able to remain rear-facing in a convertible car seat for the minimum 2 year period advised by the American Academy of Paediatrics.
If you cannot afford to buy 2 different car seats within the space of a year, convertible car seats are an excellent option. Provided that your newborn baby is not very small and provided that the minimum shoulder strap height enables a snug fit, there is no reason not to use one of these seats from birth.
As I have previously stated, convertible car seats are less convenient since they cannot simply be clicked in and out like infant car seats. As in every aspect of life, there is a trade-off between convenience and cost. If you are about to become the parents of twins (or more!), I would advise against convertible car seats unless you have an army of helpers.
Since these seats are best installed using LATCH connectors, you should also make yourself aware of the February 2014 LATCH Law changes.
Click on the button below to read my Convertible Car Seat Reviews.
The Best Convertible Car Seats
Safety Information
---
After purchasing any child car seat, you should always read the User Manual thoroughly before using it. It is also advisable to visit your local Fire Department or NHTSA Child Car Seat Inspection Centre to ensure that the seat is definitely suitable for your child's specific requirements and that you have installed it correctly. These services are usually provided free of charge.
You can find your nearest NHTSA Centre here.
Do You Need More Help?
---
If you need any further advice or assistance whatsoever, please feel free to contact me and I will do my very best to help.
If you have any other feedback about my "Baby Car Seat Reviews″ post, please just leave a comment in the box below or send an email to kristian@kidsafetyfirst.com