The 2 Lightest Infant Car Seats
---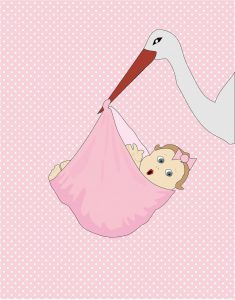 The 2 lightest infant car seats on the US market today are:
Maxi Cosi Mico AP (8 lbs without base)
Graco SnugRide Click Connect 35 (7.5 lbs without base)
Just to give you some idea of just how light the Mico AP and SnugRide Click Connect 35 seats are, here is a list of the weights of a few of their main competitors:
So, you can see that the Mico AP and SnugRide Click Connect 35 seats are significantly lighter than their main competitors.
Note: Whilst the standard SnugRide Click Connect 35 seat weighs just 7.5 lbs, the LX model of the same seat weighs slightly more at 9.75 lbs.
Although I originally wrote this post in 2014, nothing has really changed so far as lightweight car seats are concerned and both of my recommended lightweight infant seats remain the top 2 options.
The only other seat that really comes close to taking the 2nd place spot away from the Maxi-Cosi Mico is the Cybex Aton, which weighs just 9 lbs.
Does Car Seat Weight Really Matter?
---
If you are looking to buy a convertible car seat or a booster car seat, then its weight is probably not even going to cross your mind since they are designed to be left installed in your vehicle most of the time. These types of seats don't have carry handles, they don't click into bases and stroller units, and you certainly won't be carrying your baby around in one – unless you are a very keen and confused weightlifter!
Infant car seats on the other hand are specifically made to be carried around and one of their biggest selling points is that they can simply be clicked in and out of a base that is installed in your vehicle. They can also be clicked into stroller units as part of a travel systems and, if used to their full potential, they are the ultimate convenience car seat option.
If you are going to use an infant car seat properly, you are going to be carrying it about quite a lot. But, if the seat is so heavy that you can't actually carry it around when you need to, you might as well save yourself some money and just buy a convertible car seat instead.
Let's look at the 2 lightest seats in more detail …
#1

The Maxi Cosi Mico AP – 8 lbs 
---
The runner-up prize for the "Lightest Infant Car Seat" prize goes to the Maxi Cosi Mico AP.
The Mico is not just light, it also comes equipped with some premium safety features and gets excellent user reviews.
The Mico AP's Key Features Include:
For children rear-facing from 5-22 pounds and up to 29" in height
Superior Side Impact Performance with Air Protect technology
Premium fabrics and padding for a comfy ride
Includes Cozi Dozi infant support for smaller babies
Integrated canopy, always on hand and easy to store
Flip-out visor on canopy for extra protection when needed
5-point harness with up-front harness adjustment
Includes a convenient stay-in-car adjustable base
Adapters to use Mico as travel system included with compatible Maxi-Cosi and Quinny strollers
Adapters for many other premium strollers available from the stroller manufacturer
Available accessories (sold separately): weathershield, bug net, footmuff and additional stay-in-car base
The good thing about the Maxi Cosi Mico AP is that its exceptionally light weight has been achieved without compromising the seat's safety features.
It is a nicely padded seat that also comes with a Cozi-Dozi infant support. This provides extra comfort and support for smaller babies. Like all infant seats it come with an installation base and 5-point harness.
The one feature that does stand out is the acclaimed Superior Side Impact Performance with Air Protect® technology.
Watch the Maxi-Cosi Mico Review Video below:
However, the one compromise that has been made is in relation to the maximum child weight and height limits. Infant car seats are usually designed for babies weighing up to 30-35 lbs and 30-32 inches tall. The Maxi Cosi Mico AP can only be used until your child's weight exceeds 22 lbs or their height exceeds 29 inches.
If that is going to be a problem because, perhaps you want to be able to use a rear-facing infant seat for longer than that, you should seriously consider the Graco SnugRide Click Connect 35 (see below) or the Cybex Aton seats instead.
Check Price of the Maxi Cosi Mico AP
You can save money if you combine the Mico with a stroller unit and use it as part of a "travel system". The Mico is compatible with a number of Maxi Cosi and Quinny stroller units.
#2

The Graco SnugRide Click Connect 35 – 7.5 lbs 
---
The winner of the "Lightest Infant Car Seat 2014" award is the Graco SnugRide Click Connect 35.
The 2 most obvious benefits of the Click Connect 35 over and above the Mico AP is that it has much higher child height and weight limits, despite being 0.5 lbs lighter to carry.
This seat can be used until your child's weight exceeds 35 lbs or their height exceeds 32 inches (that's 13 lbs and 3 inches more than the Mico AP).
Parents should not assume that an infant car seat with a greater height/weight limit will automatically mean that their particular child will be able to use it for longer. Most babies will outgrow the height limits on infant seats well before the weight limits and so, unless your baby is likely to be exceptionally large, the chances are that they won't be able to use the Click Connect 35 until they are 35 ls. Also, since there are a large number of great rear-facing convertible car seats on the market now, and of course you will need to transition to one of them at some stage anyway, I wouldn't be overly concerned about the differences in the height/weight limits on these 2 infant seats. There are other more important factors to consider.
The SnugRide Click Connect 35's Key Features Include:
Suitable for use from 4-35 lbs in weight and up to 32 inches in height
Click Connect™ technology offers a one-step secure attachment to all Graco® Click Connect™ strollers to create a travel system that can be customized to your needs
Top rated by leading consumer magazines and publications
Rigorously crash tested to meet or exceed U.S. safety standards
Safe Seat Engineered* (*safeseat engineering includes side impact testing, testing at 2x car seat standard, and testing to extreme car interior temperatures)
Side-impact tested* (*In addition to meeting or exceeding all applicable US safety standards, the SnugRide® Click Connect™ 35 car seat has been side impact tested for occupant retention by the harness system)
EPS, energy absorbing foam for effective impact energy management
Convenient, LATCH-equipped stay-in-car base with on-base level indicator for hassle-free installation
Stay-in-car base with 6-position dial adjustment makes proper installation easier
5-point, front-adjust harness helps you get baby in and out
Removable infant head support cushions baby
Note: This seat does not come with a "lock-off" mechanism on the base and the harness needs to be rethreaded when being adjusted. If you want these extra features (and more), you should check out the SnugRide Click Connect 35 LX here instead.
Watch the Graco SnugRide Click Connect 35 Video below:
Check Price of the Graco SnugRide Click Connect 35
Light Canadian Infant Car Seats
---
Find Maxi-Cosi Infant car seats in Canada.
Find Graco SnugRide Infant car seats in Canada.
Safety Information
---
After purchasing any child car seat, you should always read the User Manual thoroughly before using it. It is also advisable to visit your local Fire Department or NHTSA Child Car Seat Inspection Centre to ensure that the seat is definitely suitable for your child's specific requirements and that you have installed it correctly. These services are usually provided free of charge.
You can find your nearest NHTSA Centre here.
Do You Need More Help?
---
If you need any further advice or assistance whatsoever, please feel free to contact me and I will do my very best to help.
If you have any other feedback about my "Lightest Infant Car Seat 2014″ post, please just leave a comment in the box below or send an email to kristian@kidsafetyfirst.com