Finding the Best Infant Car Seats
---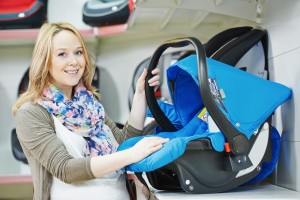 No matter how long you search for "the best" infant car seat on the US market for your baby in 2017, the truth of the matter is that there is no such thing. No single infant car seat can legitimately claim to be the absolute best product for every baby or every parent or every vehicle. Instead, what you are faced with is a long list of very good infant car seats, most (if not all) of which 
will be perfectly suitable for use with your baby.
In short, there is no "best infant car seat", but there are some seats that are more highly regarded than others by car seat safety technicians. So, give yourself a bit of a break and try not to stress out too much about this decision – you are in a much happier position than parents 20 years ago when it comes to buying child car seats!
Of course, not all infant car seats are created equal and in order to get the full range of safety, comfort, and convenience features, you need to look towards the premium end of the market. As in most things in life, you get what you pay for, and child car seats are generally no exception to this rule.
The purpose of this post is to try and make your decision a little easier by highlighting a few of my favorite infant car seats and briefly explain what specific features set them apart from the rest of the market. Although they don't all have the same maximum child weight limits, they are all suitable for use from 4 lbs upwards.
All of the seats mentioned within this post have passed the relevant federal safety tests and all of them come fitted with premium safety and convenience features that exceed the minimum requirements. I would be delighted to use any one of them if I was ever fortunate enough to have another baby to drive around.
My Favorite Infant Car Seats 
---
So, here is my list of the best infant car seats:
#1

 

Britax B-Safe 35 Series
The original basic Britax B-Safe has been on the US market for a number of years now.
It remains a very popular choice.
However, Britax has recently released 2 new infant seats onto the market in the shape of the B-Safe 35 and B-Safe 35 Elite.
One of the biggest changes (and the reason for the "35" model suffix) is that the maximum child weight limit has been increased from 30 lbs to 35 lbs.
All of the B-Safe seats have come with a very generous maximum height limit of 32 inches.
In addition to this weight limit increase, there are a number of other modifications that have been made to the B-Safe and you can read my in-depth comparison reviews here:
Check the latest prices of the B-Safe 35 and B-Safe 35 Elite Seats here.
Watch the B-Safe 35 & B-Safe 35 Elite Promo Videos below:


#2

 

Chicco Keyfit 30
The Chicco Keyfit 30 has been the number 1 rated infant car seat on the US market for many years.
At 30 lbs, it has a lower maximum weight limit than the B-Safe 35 series and the Peg Perego 4-35.
You can also buy version of this seat with added comfort and convenience features like special breathable fabrics for improved ventilation in hot conditions, and washable seat parts that simply "zip off":
The Keyfit 30 is packed full of high-end safety and convenience features, including:
Energy-absorbing foam for improved side-impact protection
Removable newborn insert for smaller babies
Thickly cushioned seat pad and five-point harness for maximum comfort
Spring-assisted level foot, bubble levels, and "Center-Pull" adjustment for easiest installation
Compatible with the Chicco Cortina, Together, Liteway Plus, and Caddy Frame Strollers
Check the latest price of the Chicco Keyfit 30.
Read User Reviews of the Chicco Keyfit 30.
Watch the Chicco Keyfit 30 Review Videos below:
#3

 

Peg Perego 4-35
Peg Perego is another company with an excellent reputation for manufacturing stylish premium car seats.
Like many of their competitors they have sought to increase the maximum weight limit on their infant car seats and the 4-35 seat (as the name suggests) is suitable for use up to 35 lbs.
The older Peg Perego Primo Viaggio SIP 30/30 is still available to buy, but comes with fewer safety features and a lower weight limit of 30 lbs. It also has a lower maximum height limit of 30 inches as opposed to the 4-35's 32 inches.
I have previously written an in-depth review of the Peg Perego 4-35 seat and, rather than repeat myself here by lasting all of its great features, I suggest that you read my full review instead.
Read my full in-depth review of the Peg Perego 4-35 Infant seat here.
Watch the "Baby Gizmo" YouTube Video Demonstration below:

Here is a more recent (and more detailed) video review by "Baby Gizmo":

#4

 

Cybex Aton Q Plus
The Cybex Aton Q Plus is a very expensive premium infant car seat that comes packed with safety and convenience features.
Here are some its impressive specifications:
Suitable for babies weighing between 4 and 35 lbs (30 inches tall) – perfect for preemies
highest ease of use rating – true 5 star rating in all categories
Quick-adjust no re-thread harness
8-position integrated adjustable headrest and harness
XXL fold-away sun canopy with UVP50+ sun protection can be extended incrementally
Automatic seat height adjustment
Telescopic Linear Side-impact Protection (L.S.P. System) Energy absorbing flexible shell is lined from head to toe with EPS foam EPS lined head rest
Check Price of the Cybex Aton Q
See Full Range of Cybex Aton Infant Seats
#5

 

The Lightweight Infant Car Seats
One of the benefits of an infant "bucket style" seat rather than a convertible seat is that it can be carried around and easily installed in a vehicle without disturbing your sleeping baby.
Obviously, if you are going to be spending a lot of time carrying around an infant car seat containing a baby, the weight of that seat is going to be a very relevant factor to consider.
For many, it won't be a big deal and they will find it easy to manage any of the premium seats mentioned above. However, there will be some carers that lack the strength to carry some of the heavier seats around and who will need to find out more about the lighter infant seats on the market.
Fortunately, there are 2 infant seats that stand out from the crowd in terms of their lightweight construction:
I have previously written a lengthy post entitled "The Lightest Infant Car Seat" and you can read that post here.
Note: Since writing that previous post, Maxi Cosi have released a new 2015 version of the Mico AP and you can find out more about it here.
In 2017, the Maxi-Cosi Mico and Graco SnugRide Click Connect 35 seats remain the lightest infant seats on the US market.
Safety Information
---
After purchasing any child car seat, you should always read the User Manual thoroughly before using it. It is also advisable to visit your local Fire Department or NHTSA Child Car Seat Inspection Centre to ensure that the seat is definitely suitable for your child's specific requirements and that you have installed it correctly. These services are usually provided free of charge.
You can find your nearest NHTSA Centre here.
Get in Touch
---
If you have any comments to share or questions to ask about my "Best Infant Car Seats 2017" post, please leave a comment in the box below or send me an email.